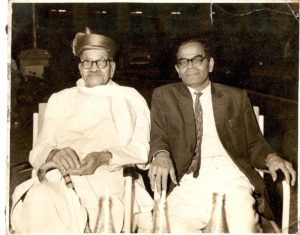 Photo of Ramdas Paranjpe and Wrangler Paranjpe, at an event of felicitation at Pune Municipal Corporation, 1963
This photo was made during a special ceremony arranged by the Pune Municipal Corporation in 1963 to honour Wrangler R.P. Paranjpe. Ramdas Paranjpe happened to be the deputy mayor of Pune. Wrangler Paranjpe, Sir Raghunath Paranjpe, was a cousin of Ramdas' father.
Ramdas' father was a lawyer in Wardha, in Central India. Ramdas was only eighteen month old when his father passed away. Soon after that his mother moved to Pune with her three daughters and a son. There she was able to educate all four of them to the highest level possible in Pune. Wrangler Paranjpe was then the principle of the Fergusson College. He was affectionate to Ramdas, the son of his late cousin.
There was another connection also. Ramdas' maternal uncle Ramchandra Bhaskar Bhagvat was Raghunath's lifelong best friend since their days together at Rajaramshastri Bhagvat's Maratha High School in Mumbai. Rajaramshastri was cousin as well as foster father of Ramdas' mother Vatsala (Parvati). When Sir Raghunath was made the first Indian High Commissioner of Australia in 1942, the young lawyer Ramdas had invited Sir Raghunath for dinner at his residence near Mandai vegetable market, which later became artist Mumbiram's legendary atelier. In 1963 Ramdas Paranjpe had founded a non-political people's organisation, called "Nagari Sanghatana" and contested the municipal corporation's elections. The Nagari Sanghatana had won the majority and Ramdas Paranjpe had become the deputy mayor. In this photograph the older and the younger Paranjpe are seen very happy to sit for this photograph together.