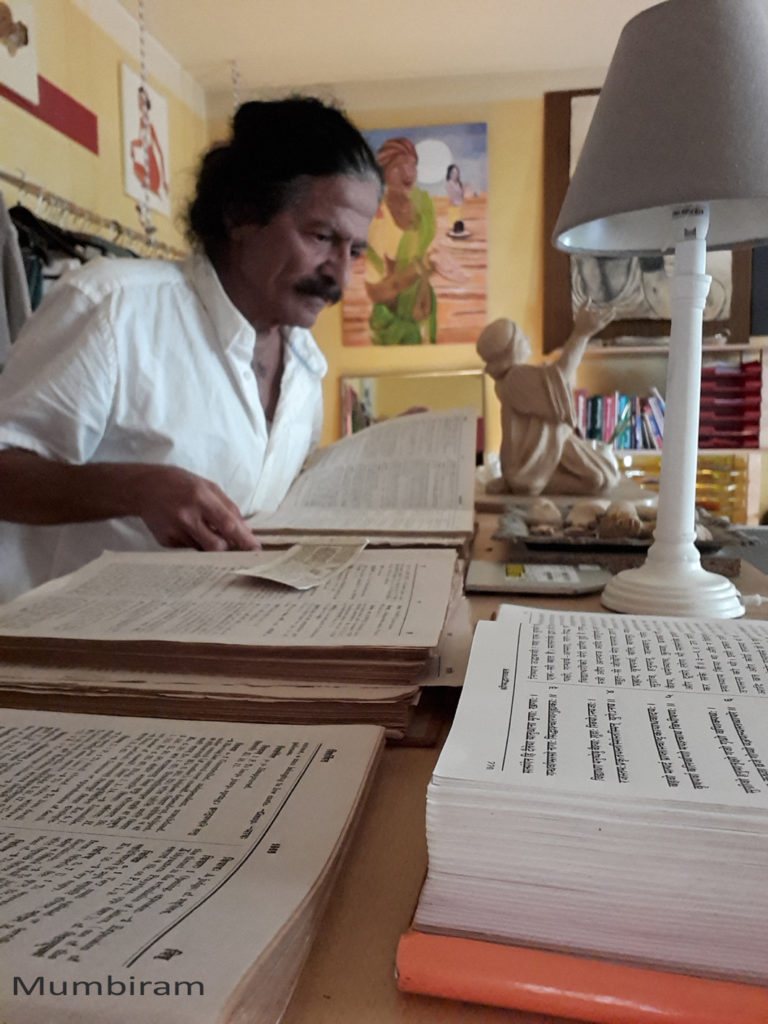 Beyond any doubt Artist Mumbiram is one of the most literary of contemporary painters. His perspective has the miraculous combination of a profound understanding of the timeless Indian Classics and a passion for innovation and originality in a painter's life and craft. It has created Rasa Renaissance in contemporary art of painting.
After a visit to Vrindavan in 1987 Mumbiram created the ambitious project of rendering four great Rasa Classics in graceful English and contemporary idiom. Those were Sanskrit Literature of Vyasa's "Rasa Panchadhyayi", Jayadeva's "Gita Govinda" and Vishvanath Chakravarty's "Prema Samput" as well as a juicy folk version in Vraja Bhasha of Rupa Gosvami's "LalitMadhava". These four Rasa Classics along with Mumbiram's original work "Deluges of Ecstasy" that he had composed in America have been published as a five volume ensemble "High Five of Love" by Distant Drummer Publishing of Germany.
Zestful collaboration between Distant Drummer and Mumbiram&Party has produced bounties beyond everyone's wildest dreams. A new aesthetic movement, uniting art and spirituality, is taking shape under the banner of Rasa Renaissance.
You are welcome to find out more about Artist Mumbiram's literary works at Distant Drummer Publications: