"Forest Women visiting Krishna and the Gopis"
Flagship painting of Rasa Renaissance that brings esoteric scriptural visions into today's daylight and presents a universal paradigm of divine love
Krishna's love affairs with the young 'gopis', the damsels of the cowherd families, are well known through the classical scriptures of India. When Mumbiram read the 10th canto of the Shrimad Bhagavatam that describes Krishna's life, he was fascinated by a verse that described how passionately the wild forest women, living in the wilderness around Govardhan mountain, were attracted by the vision of Krishna sitting with the gopis on the bank of the Yamuna. The gopis are popularly known. They are cowherd people just like Krishna.
पूर्णाः पुलिन्द्य उरुगाय पदाब्जरागःश्रीकुंकुमेन दयितास्तनमण्डितेन
तद्दर्शनस्मररुजस्तृणरूषितेन लिम्पन्त्य आननकुचेषु जहुः तदाधिम्
"When Krishna and his lady friends, the Gopis, the cowherd girls, were sitting on the bank of the Yamuna, the Pulindi forest women appeared. They could not go near Krishna. They were 'the other' and not the same clan as Krishna who was one of the cowherd people. The forest women were also attracted to Krishna, but could not go near him. They watched Krishna and the Gopis. The Gopis used to prepare sandalwood mixed with kunkuma which they used to put on their own bosoms and breasts. When they would have Krishna's feet resting on their breasts, this kunkuma powder came on to the feet of Krishna. When Krishna later walked away on the grass some of this red powder got smeared on the grass. When Krishna and the Gopis were gone, these forest women moved ahead, tore off some of this grass that was tinted with the kunkuma-red powder and smeared it on their faces and breasts. That is how they mitigated their intense desires of love that were aroused in them just by looking at Krishna. Their desires were intense like a disease. The closest they could find to Krishna was this grass on which Krishna had walked."
This verse of Shrimad Bhagavatam inspired Mumbiram to make one of his very first Krishna paintings. That was in Seattle in 1976. It was a mural painted on the wall of an Indian restaurant on University Avenue. The second version was made soon after on a small canvas that Mumbiram carried with him on his journey from Seattle to Washington D.C. in January 1977. He left it with a member of the choir of the Seventh Day Adventist church in Denver Colorado that had an enthusiastic Afro-American congregation. They had sheltered Mumbiram and facilitated his journey to D.C.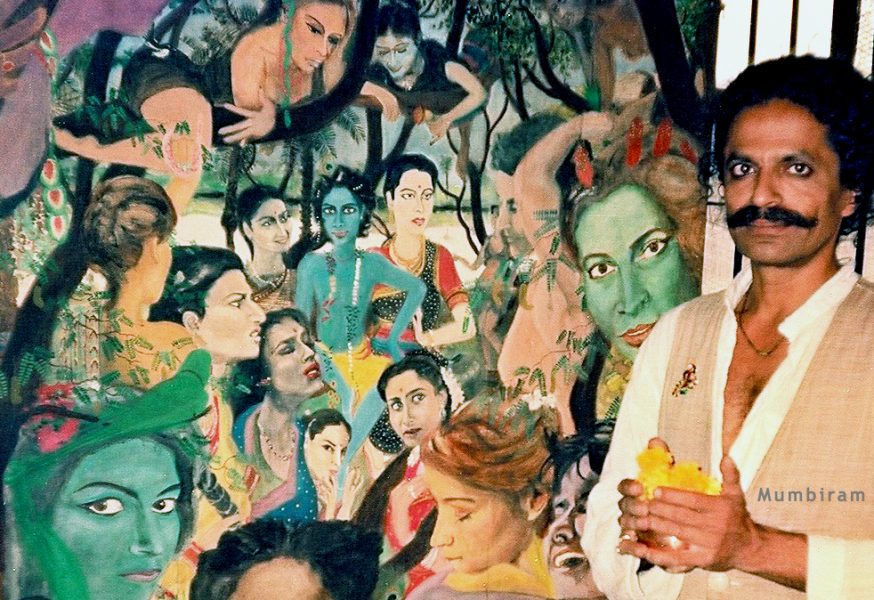 This is the last version he made in 1985 in his legendary Mandai atelier in his native Pune in India. It was made for the leading Orthopedic Surgeon of India Dr. H.K.Sancheti. Thereafter it changed hands several times in amazing circumstances yet came back to his atelier every time. There it graced that legendary atelier in a dilapidated house at the Mandai vegetable market. In 1996 it was acquired by an executive of Mercedes Benz of India and carried to Stuttgart in Germany.
Mumbiram's studio was a legendary place because it was witness to a miraculous chapter in the history of art. That unlikely place was attracting men and women of diverse exotic ethnicities of India on the one hand. These were often the poorest and the most neglected sections of Indian society. The artist who was attracting them thrived on their unconventional extraordinary beauty that was ever neglected by mainstream art and culture. On the other hand Mumbiram was attracting art lovers from across the world who were visiting Pune and who came to know about this artist in his legendary studio.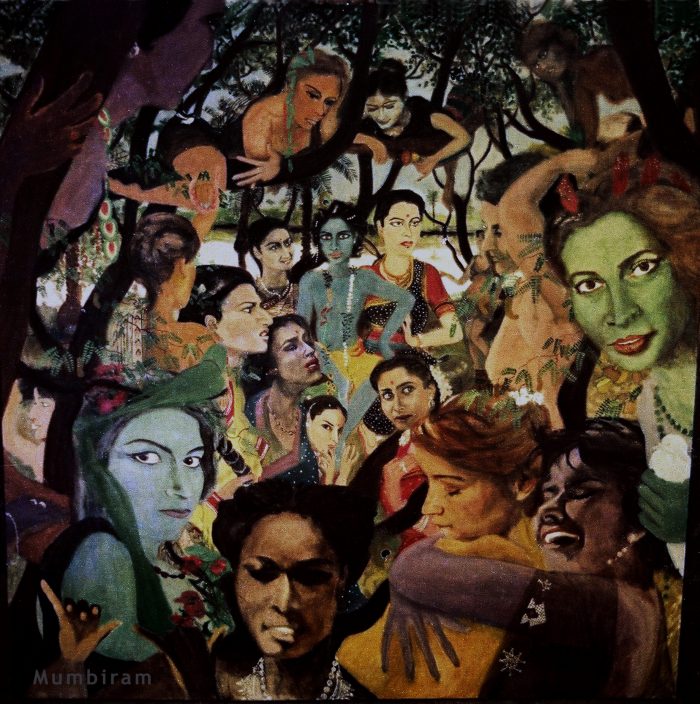 Krishna is sitting surrounded by his favorite gopis while the forest women who are aroused by that vision are hovering around. Mumbiram avoids the obvious and ads an element of pleasant surprise.
In Mumbiram's vision the gopis are well-known Bollywood actresses of contemporary Indian cinema. The forest women in the periphery are not at all the so-called tribal women of India. In Mumbiram's vision they are international divas whose beauty does not conform to the Indian stereotypes of beauty.
There are three ways in which this painting makes important contribution:
In art it is obvious: It is Mumbiram's Personalism taken to its amazing heights. The space is created solely through juxtaposition of faces and their gazes. The natural ease in rendering, the great variety of ecstatic moods and variety of human types shows an acutely evolved sense of portraiture.
Mumbiram's vision and rendering make a statement in the domain of Aesthetic Justice and Equality: That God-consciousness must not be the monopoly of any caste or creed or nationality.
The third and most fascinating aspect is that through graceful choices of contemporary faces, manners and styles Mumbiram is bringing esoteric scriptural visions into today's daylight. Mumbiram is introducing the Prema Vivarta mood. Spiritual pursuit need not entail any neglect or denial of the material world around us. To a person in the Prema Vivarta mood everything in the material world reminds of something in the spiritual world.
Above all and in short, through his art Mumbiram is celebrating a Universal Paradigm of Love and Beauty. It lets the joy, beauty and essential equality of all living entities shine gloriously through all the confusion of the material world.
"Emotions are universal and we are all threaded into the variegated exotic garland

of a 'Universal Paradigm of Divine Love'." (Mumbiram)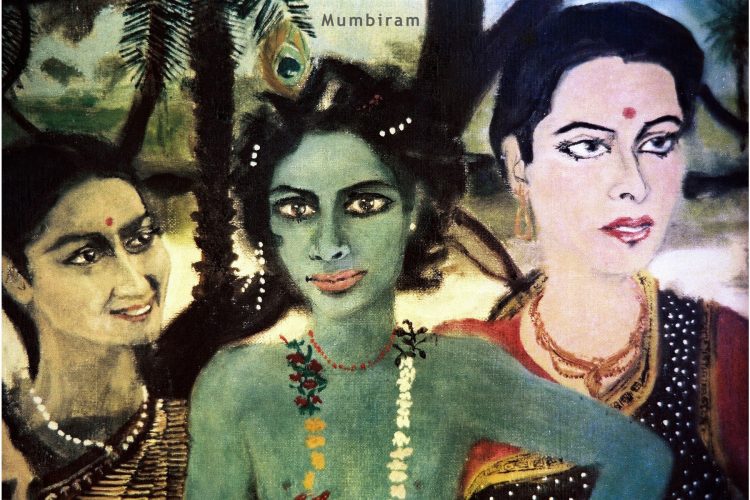 The painting is full of amazing details for the discerning eye. Krishna is not adorned with gold-studded jewellery but by a garland strung with wild forest flowers. Who did Krishna get these forest flowers from? Look closely ! The forest women are wearing exactly the same flowers, feathers and leaves that Krishna's garland is made of.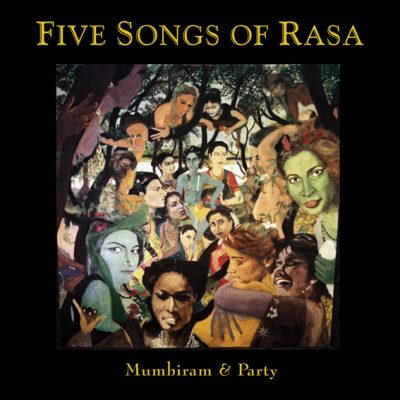 The many wonderful details of the "Forest Women" painting has been published along with Mumbiram's English translation of Rasa Panchadhyayi as "Five Songs of Rasa", the first volume of Mumbiram's five volume ensemble of classical Rasa Art and Literature called "High Five of Love".