Book Readers and Books are a recurring theme in Mumbiram's paintings. The "Book Readers, Love on the Gutenberg Galaxy" captures the noble and global ideals that inspire this exceptional artist. Love is the constitutional rasa in Mumbiram's poems as well as paintings.
In the Book Readers ensemble we see book reading as a very intimate sentimental experience, a blissful amorous happening that is ecstatic to all, crossing all cultural, ethnic or age barriers.
Books are certainly the most peculiar facet of the human civilization of our planet. Indeed not all galaxies may have such civilizations inhabiting them. Yet Love as we know is truly universal. This ensemble of 22 charcoal renderings from Mumbiram's prolific repertoire is about Books, Love, Love of Books and Books of Love.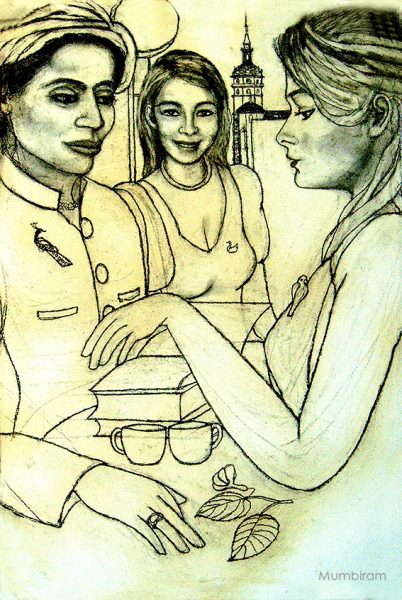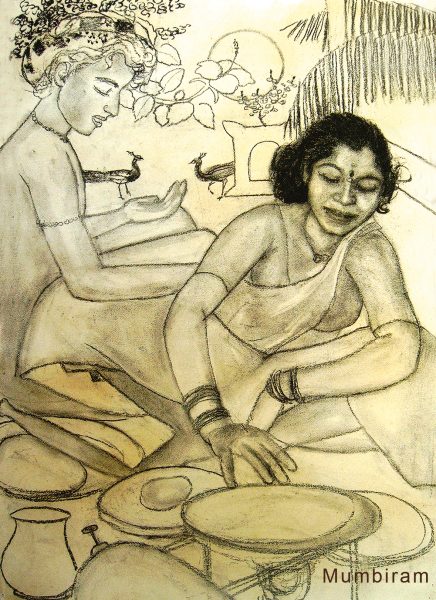 Every one of the Book Readers brings out a new meaning and a different magic to the contribution of books to our civilization. The elegant simple lines of the artist conjure a variety of emotional, and romantic situations that we all are familiar with. Far from being redundant, the titles along with the paintings lead one to noble heights of realization that summon ecstatic memories and déjà vus. Here Books and Book Readers have a distinct angelic aura.
Here books are rivers of rasa. Even demigods shower carnations on those who conjure such literary incarnations. Hibiscuses, peacock feathers, drums, paintbrushes, flutes, the mountains, the stars, the steeple of a church, a pair of oil-lamps. Such is the variety of paraphernalia Mumbiram's book-readers are seen with.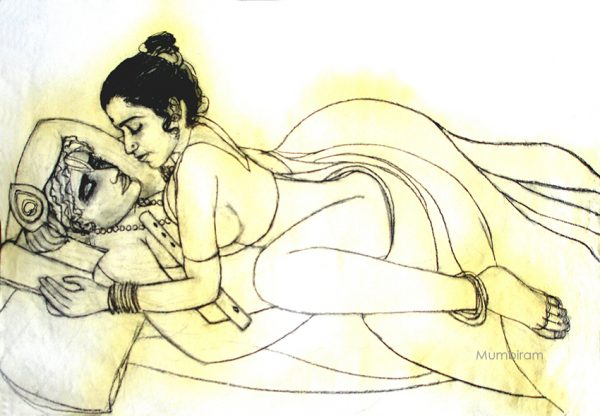 Mumbiram's paintings abound in references to great classics. What is more – Books appear importantly even in the sensuous erotic works of Mumbiram. They play the same intimate role in arousal of amorous feelings in young hearts as say the Sandalwood Scented Wind from the Malaya Mountain or the Cacophony of Cuckoos in the Spring Season, or Hordes of Bumblebees Lusting After Honey.
The series is very aptly called Love on the Gutenberg Galaxy.
Welcome all Book-Lovers !
Welcome all Art Lovers !
Welcome all True Lovers !
Welcome to Our Galaxy.