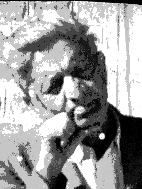 Artist S.H.Godbole  photographed by his grandson Artist Mumbiram
This is perhaps one of very few surviving photos of Artist S.H.Godbole in his old age. It was made by his grandson Artist Mumbiram in 1967 when Godbole was nearly 82 years of age. Godboleji used to ride his bicycle nearly four kilometres daily from his farm house on Bombay road to his daughter Anjani's family residence near the Mandai vegetable market place in Pune. This photo was made in the balcony of that Mandai residence.
This photo was made just a few months before Artist Mumbiram went to America for his graduate studies in Berkeley. The artist and his grandson would never meet again thereafter. Mumbiram had just acquired his own first camera. It was the cheapest (30 Rupees) Agfa box camera that made black and white photos in the 120 format.
Godbole, having used professional quality rolleiflex cameras, had only contempt for Mumbiram's new acquisition. Nevertheless, Godbole readily "posed" for a photo for his favourite grandson. Under his left arm he was carrying his trade mark solar hat, such as was used by civil or army officers in the colonial English era. It is not visible in this cut-out image.