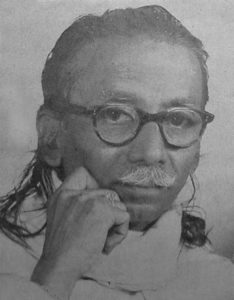 Photo of Artist Godbole's close friend Chitrakalacharya N.E.Puram
Narayan Eranna Puram (N.E. Puram) and Shankar Hari Godbole (S.H.Godbole) became friends as students in Mumbai's J.J. School of Art. Both of them dropped out to carve out their own independent artistic careers. Godbole became an art teacher in Pune's St. Vincent's High School in the army cantonment area. His art became a favourite with English officers and he was made a secretary of the Bombay Art Society under the patronage of the governor of the Bombay Presidency.
Puram found patronage from the Maharaja of Baroda and the Raja of Aundh. He was commissioned to make illustrations for Bhandarkar Institute's voluminous and authoritative editions of the Mahabharata. He was invited to be the art director for one of the annual sessions of the Indian National Congress. ( Faizpur Congress ) The title "Chitrakalacharya" was bestowed upon him by one of the Shankaracharyas. Puram and Godbole had founded "Institute of Modern Art" in Pune in the 1930s. This later evolved into Puram's "Bharatiya Kala Prasarini Sabha", the parent body of Pune's first art and architecture college: "Abhinav Kala Vidyalaya". For many years Godbole's son-in-law, advocate Ramdas Paranjpe (Artist Mumbiram's father), was member of the executive committee of the Sabha. Along with Sayajirao Silam, Advocate Ramdas Paranjpe contributed to the fund-raising activities of the institute. Puram was married to Vijayabai Puram, who was always very active in supporting all of her husbands artistic endeavours. She survived Puram by nearly twenty years and dearly held on to Puram's surviving paintings and memories. After his return from America, Artist Mumbiram established an affectionate rapport with Vijayabai who bestowed upon the young artist her loving blessings.