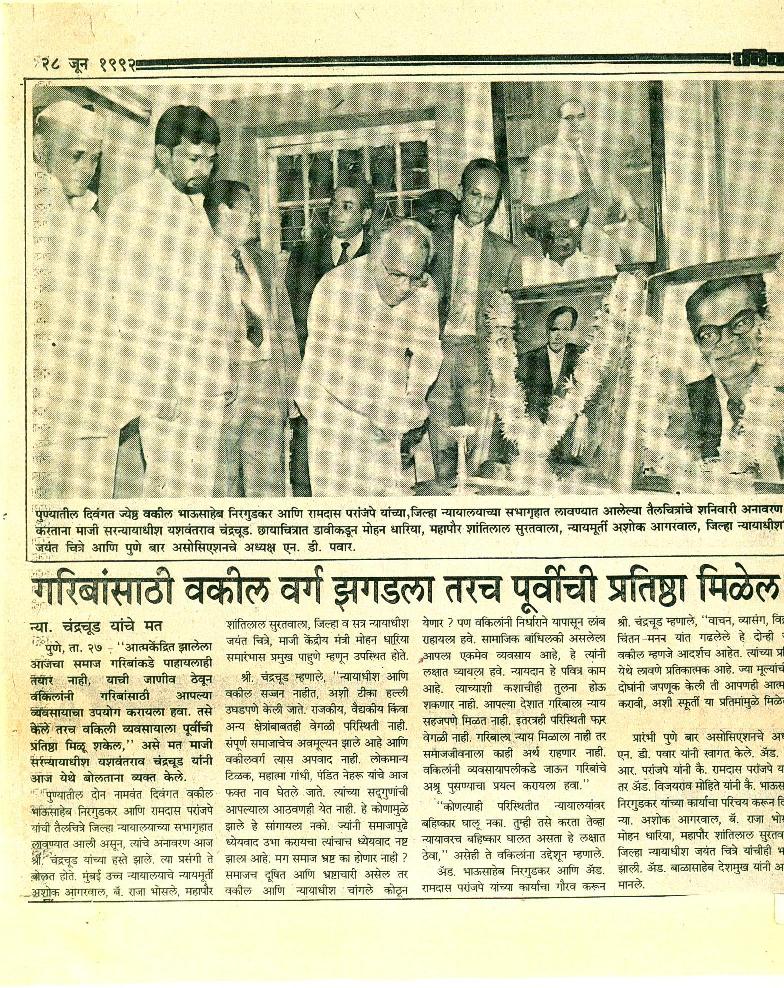 Newspaper Article about inauguration of Paranjpe's Portrait by Artist Mumbiram in the Library of the District Court Pune at the hands of retired Chief Justice of the Supreme Court of India, 1992
Ramdas Paranjpe was the president of the Pune Bar Association in 1963. When he passed away in 1989 it was proposed that a portrait of Ramdas Paranjpe be hung on the premises of the District Court of Pune. Artist Mumbiram enthusiastically accepted the challenge to make a portrait of his father whom he dearly loved and respected. The retired chief justice of India, Shri Y. V. Chandrachud and his sisters were school friends of Ramdas Paranjpe and his sisters. Chandrachud had happily agreed to inaugurate Ramdas Paranjpe's portrait in the District Court library. In this photograph Chandrachud is seen inaugurating the portrait while the mayor of Pune and the chief justice of the Bombay High Court watch on.
Also seen in the picture are a former Union Minister, the District magistrate, a high court judge and the President of the Pune Bar Association. Not seen in the picture is Artist Mumbiram who made the portrait of Ramdas Paranjpe.
Newspaper reference: Daily Sakal, June 28, 1992