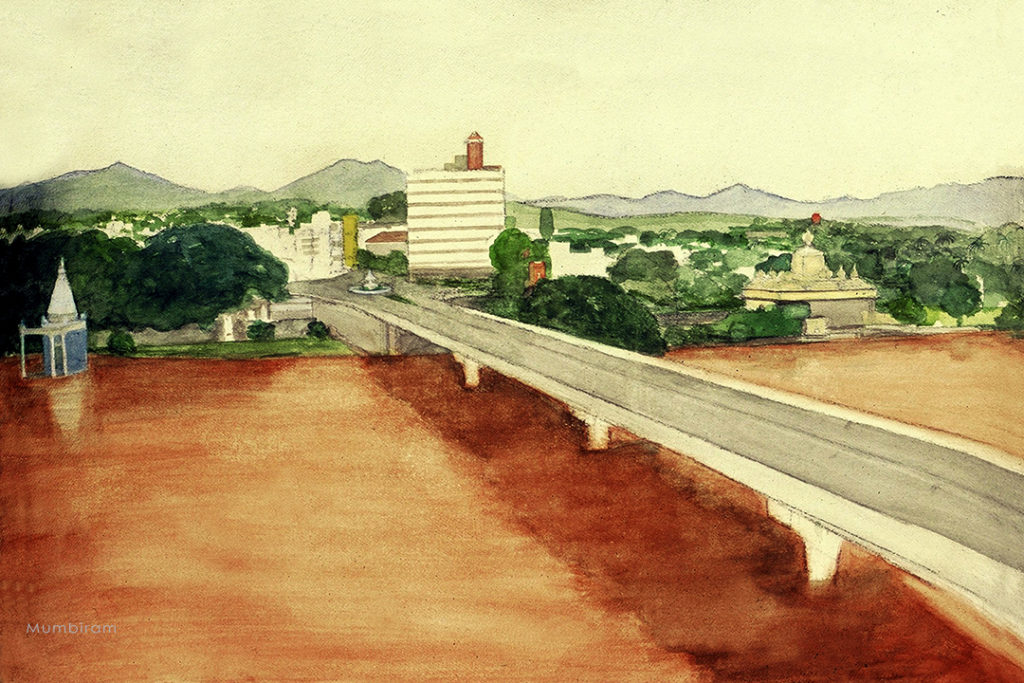 This is a vision of the flooded river looking South along the "Balagandharva Bridge". It shows a curious mixture of the classical historical Pune and the contemporary 20th century Pune.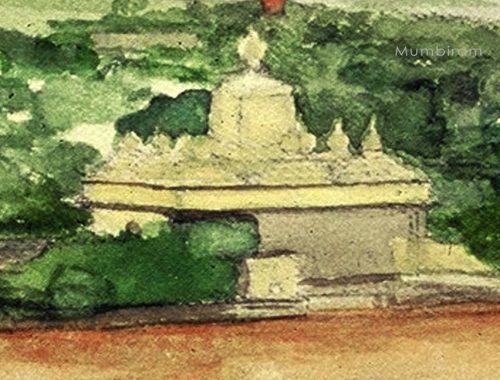 The Omkareshwar temple was built around 1737 by Chimaji Appa the younger brother of Bajirao I. Chimaji's samadhi is in the temple compound. The temple has a formidable construction. It withstood the deluge of the Great Flood of 1961. It has a very unique construction for a spire. Eight smaller spires that surround a bigger central spire. We know nothing of the architects that conceived this unique construction. Credit must go to Chimaji Appa.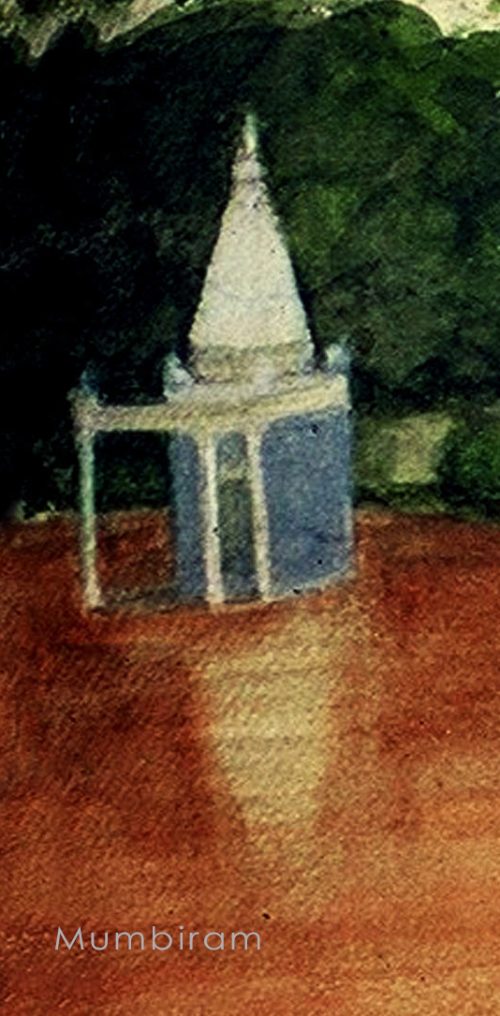 The little thin shrine to the left of the bridge is a memorial to a legendary Ayurvedic physician named Annasaheb Patwardhan who lived just over 100 years. There are legendary tales about how he could diagnose a person just by looking at him even from a distance !
The Mini high-rise buildings where built in the last 50 years. The bridge was also built in the last 50 years. It was popularly known as the Balgandharva Bridge. The Balgandharva Rangmandir theatre is the famous landmark that flanks the northern end after the bridge.
Mumbiram was familiar with this area since before this bridge was built or even before the iconic theatre was built. Mumbiram would remember the inauguration of the equestrian statue of Rani Lakshmibai at the hands of Shri. Rajendra Prasad, the President of India in the early 1950's. Mumbiram had walked and waited and witnessed that memorable occasion along with boys from his neighborhood in Mandai.
The Omkareshwar temple figured in Mumbiram's memories of the flooded river because that was where the young men that jumped into the flooded river from Lakdi Pool bridge would come out of the water. If they could not land there then their chances for survival were not very good. It was such a dangerous risky affair. It was a challenge that the brave young men of Pune did not want to miss.