Three miles up the river, on the road along the river there is the serene beautiful spot called Vitthalwadi.
This is a mini Pandharpur. It even has a delicate tall little temple dedicated to Pundalik, the extraordinary young lover of Krishna who made Krishna wait in the muddy yard of his home while he massaged the feet of his parents. Mumbiram has written the story of Pundalik in the "Magic of Love in soulful Folk Tales from India".
The rugged and rocky hills and dales of the Sahyadri Mountains west of Pune are the districts collectively called Maval. The small villages spread all over Maval gave the brave foot soldiers who gave their all to the cause of liberating India from the tyrany of invadors.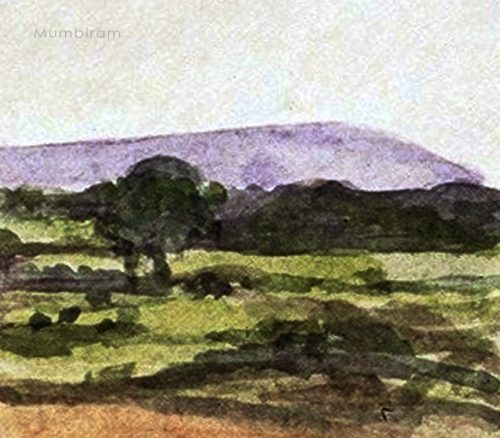 In peace time it yields the fine aromatic "Ambe Mohor" variety of rice that is unique to this region. It gives out the aroma of the Mango blossoms when cooked.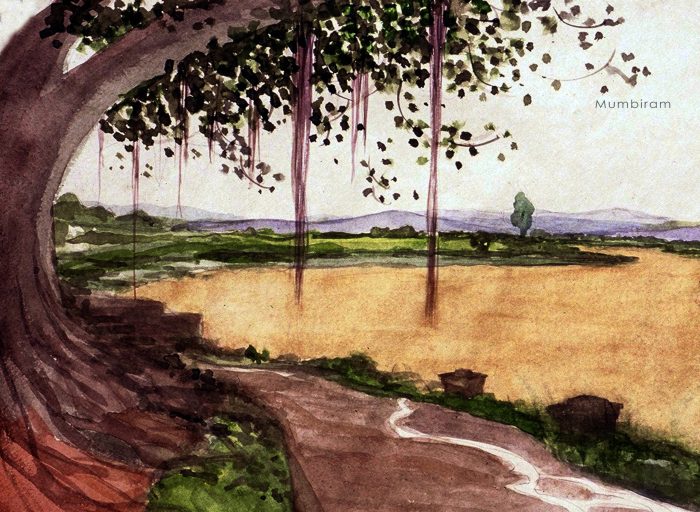 This vision of the Banyan Tree on the bank of the river is intimately associated with the imagery and culture of faith and devotion of Maharashtra. Notice the two Tulasi Vrindavans that are nearly lost on the river bank. This spot appeared in many movies made by the legendary Prabhat Studios of Pune. It was a favourite picnic spot. Mumbiram loved to visit it on any day of the year.
Mumbiram's brush work is a picture of austerity. There is nary a flourish of ostentatious brush strokes. That is how he brings out the very essence of the ambience which otherwise would be obliterated by the artist's egoistic posturing.
In all these riverscapes the sky is absolutely unworked. The wit is in the choice of the glimpses the artist shares with us. His rapport with his native rivers is first-hand and the authenticity of the presentation is disarming.