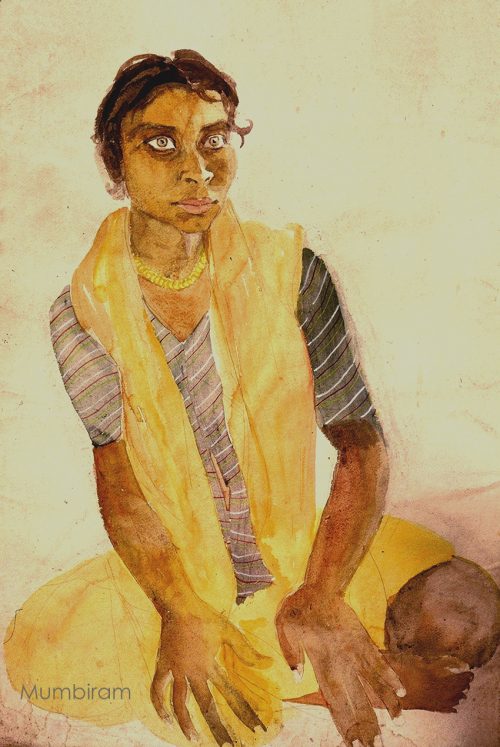 It was a surprise meeting. Mumbiram had to put paper on the board, find the right spot for Meera to sit and for himself to sit not far from her. Then he set out his watercolor paintbox, a pitcher of water and his brushes. When Mumbiram likes the subject of his portrait, it takes him no more than half an hour to materialize an inspired portrait. This portrait of Meera was one such inspired portrait.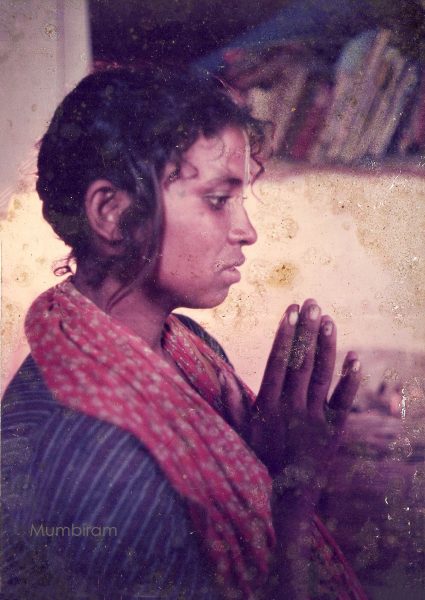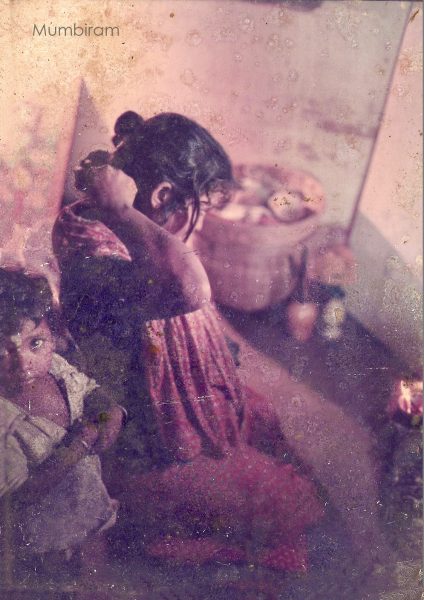 Meera herself was so inspired by the atmosphere in Mumbiram's studio, especially the Krishna paintings and the mirrors and the Tulasi malas and the paraphernalia of worship and the bamboo baskets and the bamboo ladders and the whole works. First of all, she put a big bright tilak on her own forehead. Then she lit an oil lamp in front of Mumbiram's iconic Krishna painting, offered haldi kumkum and folded her hands in a silent prayer.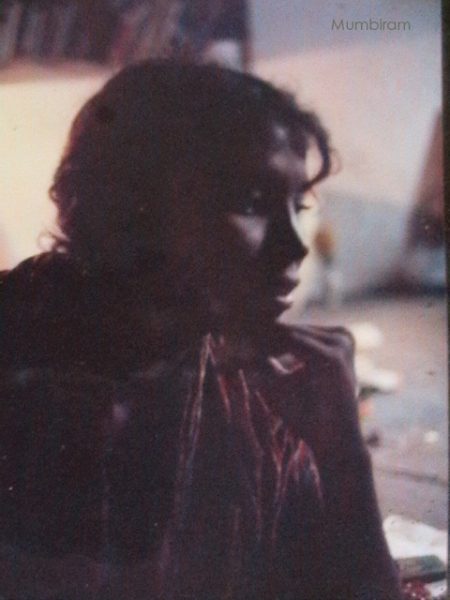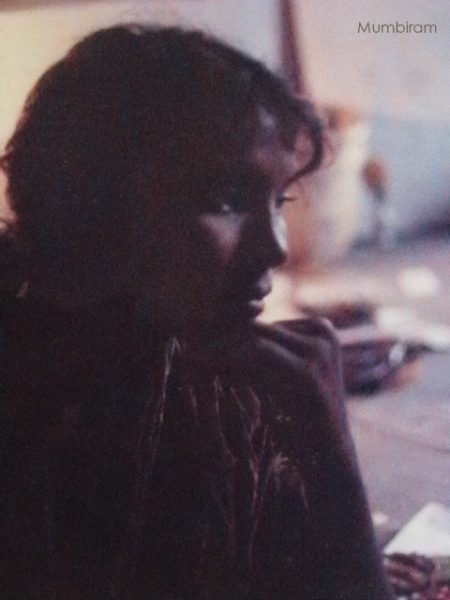 All that in turn inspired Mumbiram with his camera. Within the next minute or two, Meera acted several moody stances, from deeply meditative to happy and mirthful to proud and challenging.
This barefooted tribal woman setting shop on a sheet of cloth on the pavement had mighty good understanding of the artist's craft and passion. The name Meera being the name of a celebrated sixteenth century princess devotee of Krishna fitted this Meera quite well. But it turned out it wasn't her real name, after all. Her real name was Navrang, which means New Colours or Nine Colours. Navrang often travelled to Krishna's Mathura to buy the Tulasi malas and Rudraksha malas and other worship paraphernalia. Navrang was pregnant on this day that Mumbiram made the portrait. She gave birth to a baby girl on her next journey to Mathura at Vrindavan's Ramakrishna Mission Hospital. There were more amazing coincidences. The whole group of Phasepardhis selling malas called Mumbiram "Painter Babu", which was inspired by a Hindi movie of that name about the romantic episodes in the life of an idealist painter. It turns out that Navrang has named her little boy also Painter Babu.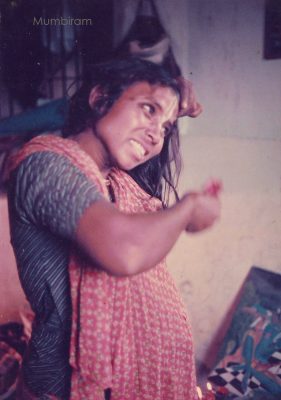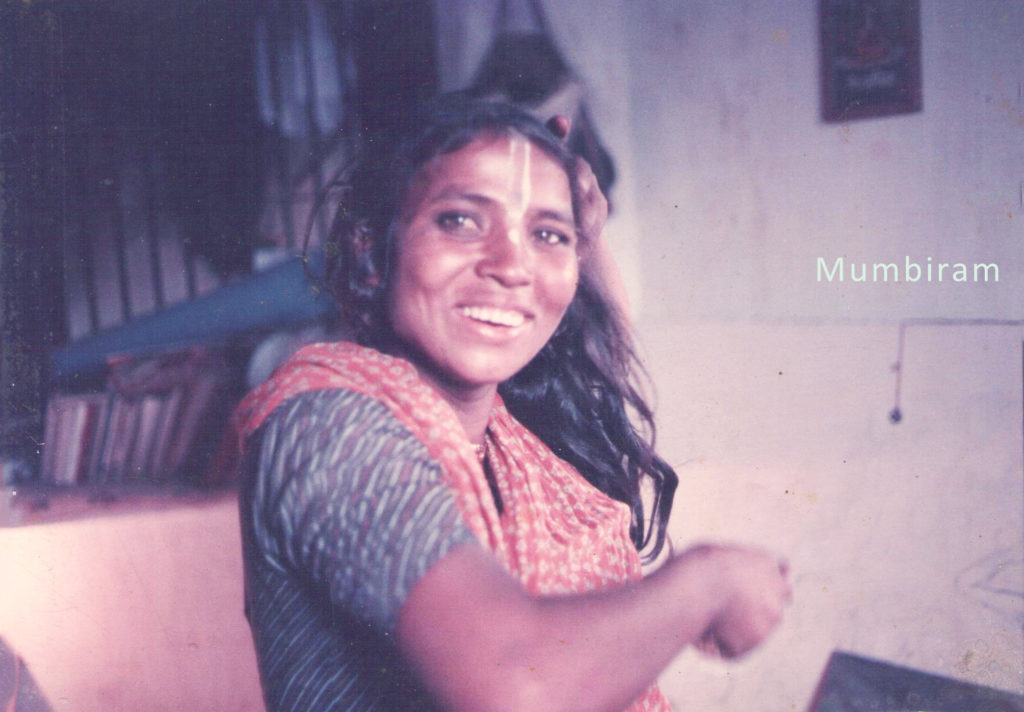 Mumbiram gave Navrang a cotton handloom "Poona Sari" that had a broad cadmium yellow border and fine green and brown lines in the body. It was the kind of sari that upper-class, educated women of good taste would choose for themselves. It was somewhat more expensive than the synthetic saris that are widely chosen for the cheap and easy maintenance they entail. Navrang really liked it. Next morning she wore it and came knocking on Mumbiram's door with a little Painter Babu and her sakhi Kalpana. That was very graceful of her to show her appreciation of the previous day's creative bon homie.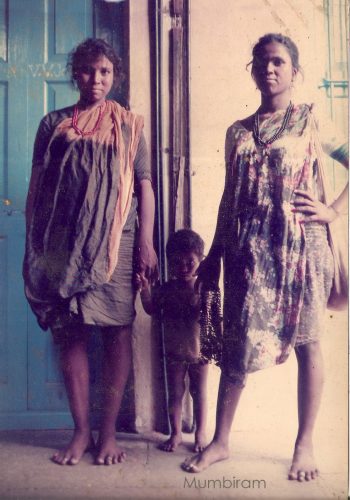 Naurang gracefully showed her appreciation of the previous day's creative bonhomie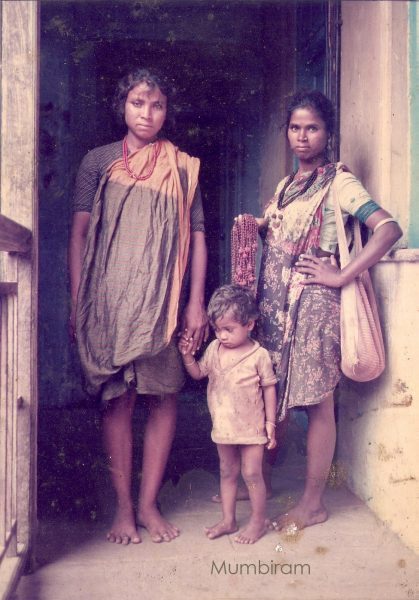 Ajmedar, the ex-village chief who had accompanied Navrang the previous day, must have talked about the happenings at Painter Babu's studio. Soon thereafter Ajmedar came with his own daughter Khutke and a little boy named Chidi. The story of that meeting will be narrated separately.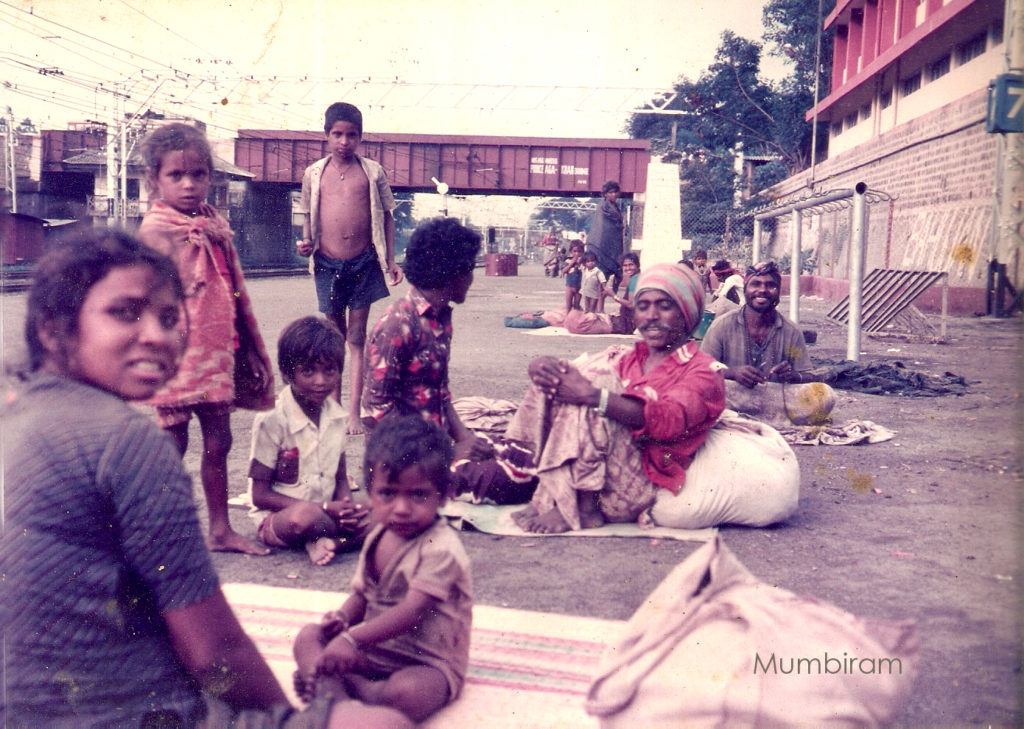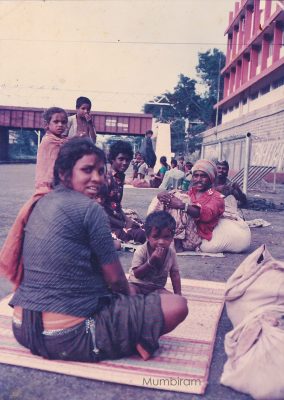 Gracious Courtesies under the open sky
Navrang herself never came to Poona again. Mumbiram himself appeared one morning in the little settlement Asol Dara (Bear Valley) near the boundary between Nasik district and Aurangabad district. As luck would have it, Navrang was there, visiting her father. Navrang and her husband had made a permanent shop in Ellora, the town of the world famous temple and caves carved out of a hill. Mumbiram visited Ellora with his international admirers at least a dozen times after that in as many years. Needless to say, a trip to the Ghrishneshvar Jyotirlinga Shiva temple, where Navrang had her shop, was a featured attraction of every one of those trips.
Happiness was overflowing during this reunion with Naurang and her family at Ghrishneshwar Ellora after nearly six years. This visit with Korean Dr. Amrisha (Hae Sung) started a Silsila of many more visits with Mumbiram's international admirers.
Naurang and her husband raised a large family of several daughters and two sons. They have done a wonderful job of balancing assimilation with preservation of their unique, exotic identity. They have rightfully aligned themselves with their Sisodiya ancestry. They are camped right next to the samadhi memorial of Chatrapati Shivaji Maharaja's grandfather Maloji Raje Bhosle.