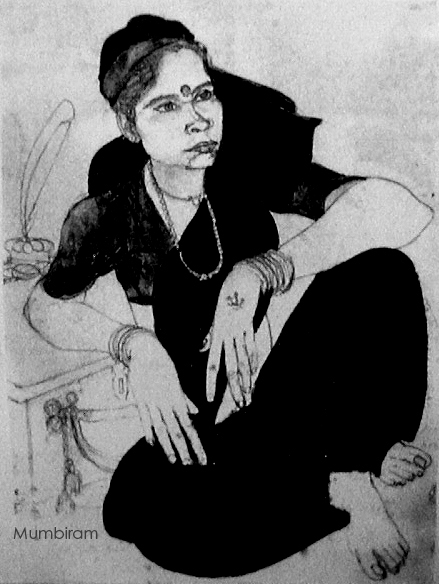 After village chief Ajmedar had introduced his daughter Khutke to 'Painter Babu' Mumbiram, Khutke had appeared again next day with young boy Sharad. She had improvised out of her own sari an elegant turbaned outfit and conjured a regal demeanor that had immensely surprised and pleased the artist. Mumbiram had offered an Indian style classical writing desk for her to sit at which proved to be just the right circumstance for the bhoomika that this spunky birdcatcher girl had gotten into.
Having settled that important aspect of making a live portrait, Mumbiram stood up his plyboard sheet, pinned his handmade paper on it and made a very quick sketch with a pencil that had a medium-soft lead.
Mumbiram was pleasantly surprised at the way Khutke was positioning her strong big hands. You see an ink pot and a writing feather on top of the desk. But don't miss the handle of a sword showing in the space between the desk and Khutke. The piercing look in her eyes, the flaring, finely curved nostrils and the fine lips pressing against each other are wonderfully placed within the angular outline of her face. Her shoulders and her elbows silently articulate her bodily strength. Her feet crossing against each other are arranged in tidy determination.
A threesome of rag-picking girls from Yerwada had barged in and interrupted their ecstatic session the previous day. Mumbiram had attempted to get everybody sing and record on his music machine. Alas it turned into an abusive acrimonious encounter. Later Mumbiram had made it easier for Khutke to cope with that conflict and incongruence. Indeed Khutke came knocking at Mumbiram's atelier the next morning. She was resplendent in a white sari and a matching white blouse that had delicate embroidery on the sleeves. She had a red rose and a yellow rose sticking out of a neatly combed bunch of her curly dark hair.
As Khutke sat at 'her' writing desk like the day before Mumbiram graciously offered the lady a fresh hot cup of tea.
Khutke would have happily posed for more portraits. Mumbiram was already pleased with the outcome of the previous day's rapid sketch that was still on the board. Besides Khutke herself was this day differently dressed and also differently poised.
Mumbiram invited Khutke to take a look at the portrait he had made the previous day.
She stayed and had a leisurely time till noontime. At noontime they decided to go out and celebrate over lunch. So they took a rickshaw to Modern Cafe Restaurant on Jangli Maharaj road at Shivaji Nagar. On the way they picked up another Phase Pardhi girl who was Khutke's Sakhi. They had a leisurely lunch in the back garden extension of that restaurant, and then said a gracious goodbye. Mumbiram hasn't seen Khutke after that.