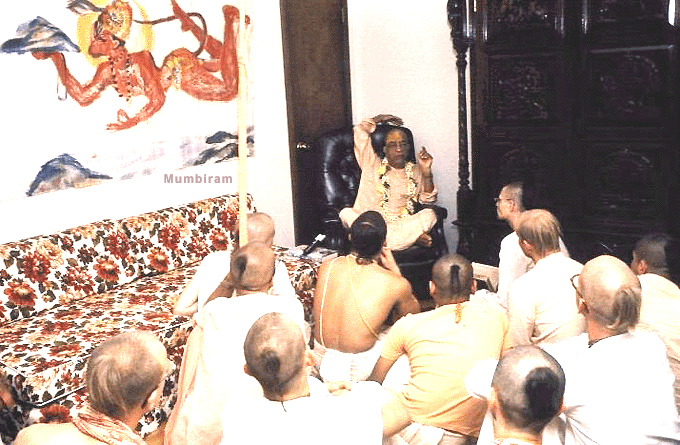 Invoking Hanuman and Narad in Brahmajyoti´s Angan
Mumbiram painted two banners/flags working in the backyard of the house where Brahmajyoti lived. Brahmajyoti had made it a hospitable and welcome space for Krishna-lovers that were creative. On one flag Mumbiram painted Hanuman floating in a gigantic leap over the ocean, with the mountain in his hand. On the other he painted Narad Muni floating in space with his Veena in the hand. The toe of Narad Muni´s left foot is barely touching the globe of the earth. Brahmajyoti dispatched both the banners to the Los Angeles Krishna temple where Prabhupad was soon due to arrive. Mumbiram was not at all sure whether Prabhupad would ever get them nor how Prabhupad would react to them.
Come Lord Hanuman, Fly on this Flag here-at !
"Bhagavad Gita Spoken Here", this is Arjuna´s Chariot !
( quoted from Mumbiram´s "Deluges of Ecstasy" )
Who was Brahmajyoti and who was Brihatsanu
In the first half of 1976 Mumbiram was living in the backyard of an abandoned home that shared its back wall with the New Jagannath Puri temple in Berkeley. He had some devotee friends that lived in the temple and some that lived outside on their own. There was one devotee who had known Prabhupad ever since he first came to San Francisco. You could say she was from the beat generation. She had known Lawrence Ferlingetti well. She had great admiration for Prabhupad. She had the spiritual name ´Brahmajyoti´ which means the impersonal effulgence of the body of the Superme Personality. Brahmajyoti was a poet. Others knew her as Gabrielle Kay Johnson. Friends called her Gabbie, which fitted her because she was loaded with the ´gift of the gab`. She was unconventional as a devotee. Temple devotees found her ways offensive. Not everyone saw the method in her madness. Then there was Leelasmaran Devi Dasi who was taking care of the Tulasi greenhouse of the temple. She had befriended the Indian artist and would give him small opportunities to serve Tulasi Devi. Then there was Brihatsanu Das who was a very early initiated disciple of Prabhupad. Jayanand knew him well. Jayanand used to build Jagannath chariots for Iskcon´s Ratha Yatras. Jayanand liked Mumbiram very much. He used to ask Mumbiram to join him in book distribution at shopping malls in Oregon. Brihatsanu did not live in temples. Yet, to the surprise of other devotees, Prabhupad used to stay with him if he was in town. Mumbiram had known Brihatsanu, his wife and children from Seattle. Mumbiram remembers watching the Roots TV serial with his family. Later they had together joined Vatsara Das and others to make a farm community near Roseberg in Oregon. Brihatsanu´s wife was the kindest devotee there was. Then there was an Afro-American Krishna-lover who liked the artist very much. She once bought on impulse a t-shirt that Mumbiram was wearing. Mumbiram had painted Jagannath-Subhadra-Balaram on the front of the t-shirt. They (the deities) had very unique captivating attires and bewitching looks in their eyes. Later in New York Mumbirm met another Afro-American Krishna-lover named Skye, who had known her in Hawaaii. Skye invited Mumbiram to her home in New Jersey and showed him how she practised the Agnihotra rituals that she had learned from Vasant Paranjpeji. Mumbiram misses all these wonderful souls with whom he could only make passing friendships in his devotee life in America.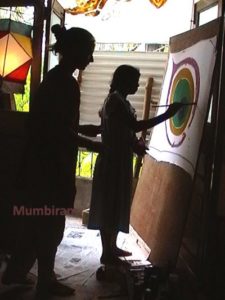 Mumbiram travels to Los Angeles to Meet Prabhupad
Prabhupad´s Last Visit to Los Angeles and America
Mumbiram wanted to travel to Los Angeles to meet Prabhupad. Brihatsanu Prabhu said he would go with Mumbiram. Mumbiram had no idea how well and for how long Brihatsanu and Prabhupad had known each other. Mumbiram often wondered what the meaning of Brihatsanu´s name might be but never dared to ask. Could it really be Brihatsaama as in the beautiful Bhagavad Gita verse:
brihat-sama tatha samnam gayatri chandasam aham
masanam marga-sirso 'ham rtunam kusumakarah (Bhag.10.35)
Brihatsaama is a very beautiful song from the Samveda that has an exquisite melody that is sung at midnight.
It was some years later that Mumbiram found out that Brihatsanu is the ancient name of the mountain at Barsana where Shrimati Radhika´s father Vrishabhanu had his abode in Vraja. That is even more beautiful than Brihatsaama.
Brihatsanu and Mumbiram were a beautiful picture together as they hitch-hiked to Los Angeles. They set out with not a penny in the pocket. No problem whatsoever. Mumbiram was telling everybody whom they met on the way that they were on their way to meet their spiritual master, their Guru.
Soon enough Mumbiram was allowed to attend Prabhupad´s evening darshan for a select audience in the back garden. During questions time Mumbiram asked if Prabhupad had compared the Petroleum Demon that is digging holes in the earth with the Demon Hiranyaksha who also dug up earth for precious metals. Is not the Petroleum demon making earth lose balance just as Hiranyaksha made the earth sink in the causal ocean. Prabhupad had the devotees ask Mumbiram to see Prabhupad in his quarters upstairs in the temple right after the end of darshan. It was a historic meeting.
Mumbiram sat directly in front of Prabhupad across Prabhupad´s low desk on the floor. Devotees sat and stood around in wrapped attention. Prabhupad asked Mumbiram about Pune and Lokmanya Tilak and Mahatma Gandhi and Netaji Bose. Prabhupad asked Mumbiram if he would like to be initiated. Prabhupad told Mumbiram to keep the name "Dhananjay" that his parents had given him. Then he announced to the devotees: "See that he is initiated". He then addressed his secretary Pushtakrishna Das and the chief of the Bhaktivedanta Book Trust Rameshwar Das "See that he goes with me !"
Mumbiram considered that to be Prabhupad´s stamp of approval of Mumbiram`s initiation as well as his graduation.
Mumbiram went back to Seattle. He lived an intensely Krishna Conscious life in the company of other raganuga souls who had developed spontaneous attachment to Krishna.
It was only after 40 years that Mumbiram found the photo of his Hanuman banner hanging on the wall in a room where Prabhupad is speaking to the devotees. The room has no other symbol or decoration visible. Prabhupad himself has his right hand overhead and his left had with the tarjani raised. The devotees all have their back to the camera. Yet you cannot miss Pushta Krishna Das with his trade-mark blonde shikhaa.
Mumbiram´s mother´s name was "Anjani", which is the the name of Hanuman´s mother. Mumbiram´s parents gave him the name "Dhananjay" which is the name of Arjuna, the dearmost friend and cousin of Krishna to whom the Bhagavad Gita was spoken. Bhagavad Gita was spoken in Arjuna´s chariot which is carrying a flag with Hanuman on it.
Mumbiram made Hanuman banners many times in India later. His young friends loved to make peacock feather flags for him.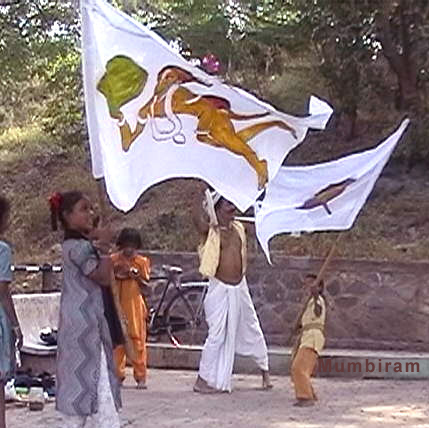 The ambience at the Burning Ghat was transformed into a sacred venue where young and old could experience highest devotional ecstasies.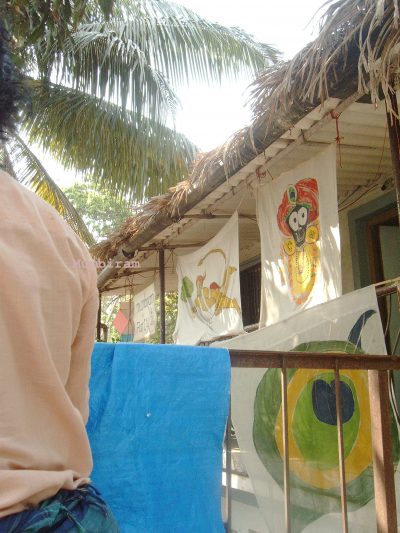 The Hanuman flag inspired Mumbiram and Party to many memorable evenings of ecstatic devotional dancing on the beach at Raiwadi.
Mumbiram´s paintings were expressing some very real personal experiences that Mumbiram had lived in his own life.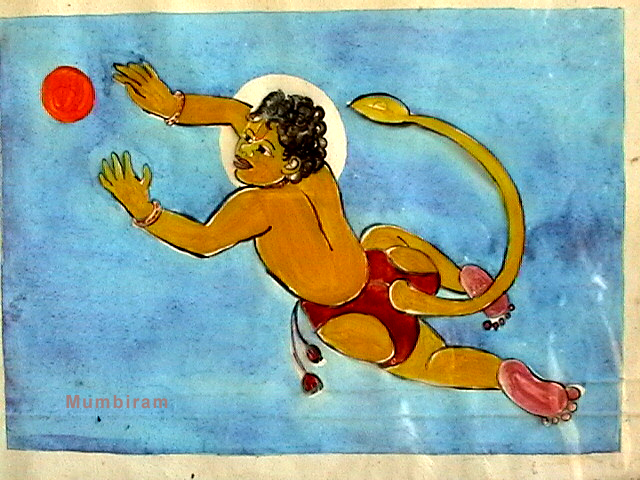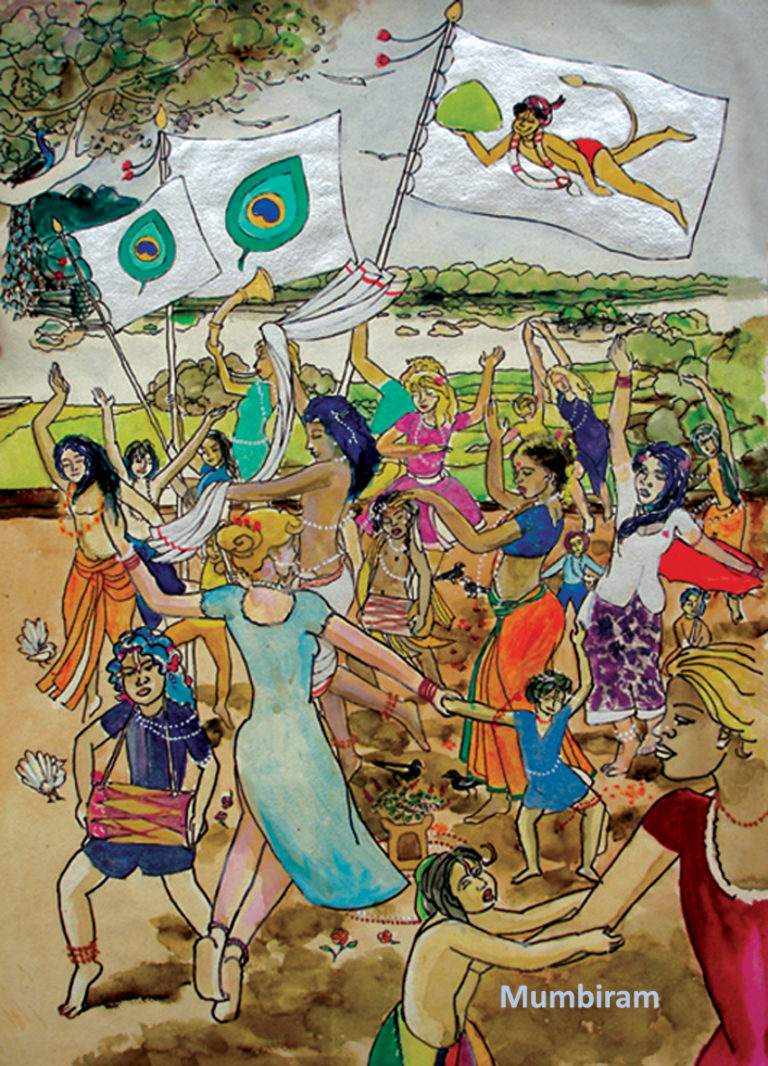 Volumes of books will not be able to describe the ecstatic dancing with the Hanuman and Peacock Flags shared by everyone along with Mumbiram and Party at the River Front, at the Ocean Beaches or in the Happy Forests.