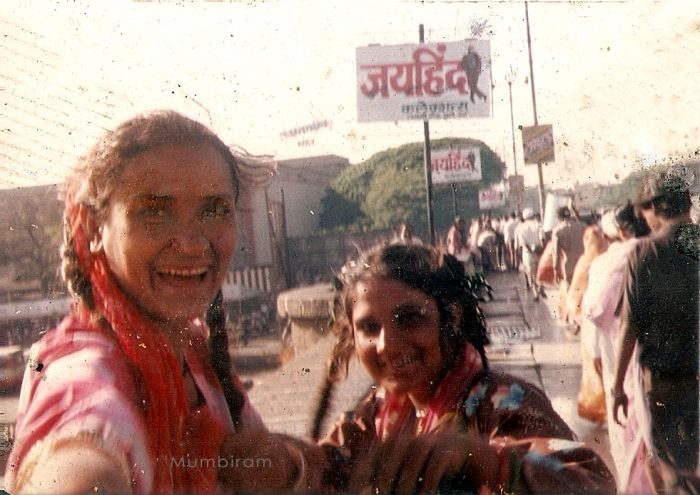 Mumbiram has observed that the aesthetic choice is the important prime force that rules lives of the Baluchis, the Phasepardhis, the Dhangars and many other people belonging to the nomadic or gypsy tribes. He has discovered during his journey of self-realization that the aesthetic choice also rules his own life, perhaps even more acutely. He has felt that this is the key that unravels the mystery of Mumbiram's primal affinity for these gypsy types – the Pulinda people!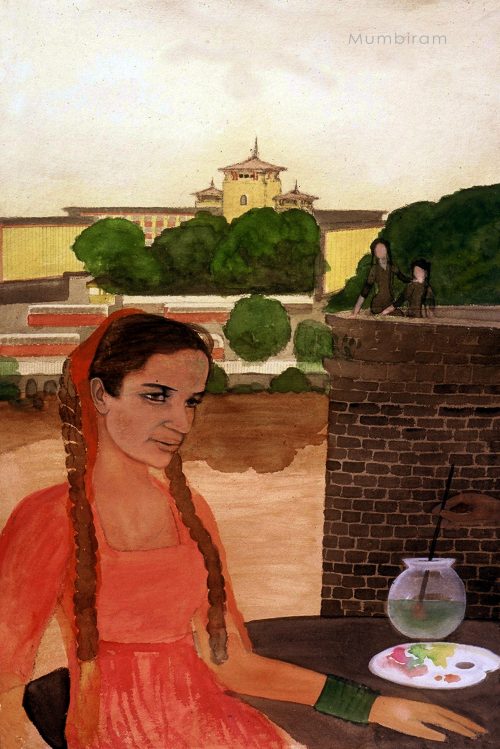 The Pulindas hang out on the banks of the Kalindi, in the caves of the Govardhan Mountain and in the Groves of Kadamba and Tamal trees at the foothills of that mountain. These also happen to be the places where Krishna likes to Sport his inconceivable Leelas. The Baluchis live in tents near the railway stations. They dress themselves in unique iconic styles. What they do for livelihood always remains a mystery. You certainly won't find them engaged in ordinary occupations.
Some of the Baluchi women of Pune set up shops on the sidewalks selling sunglasses. Two of them had chosen a spot on the picturesque Nava Pool over the Mutha river. This is an ancient looking sturdy Bridge built out of black basalt stone and connects the southbank of the river in front of the historic Shaniwar Wada with the northbank near the imposing building of the City Hall that sports Pagoda-like towers on its top.
Mumbiram has written about that building and this Bridge when he wrote about a riverscape he made showing the flooded river at this Bridge. You can read more here: "Belutchi Women on Nava Pool ignore the Floods"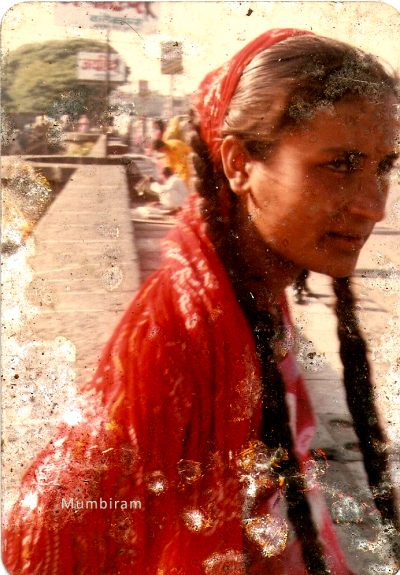 Mumbiram was fascinated by these two Baluchi women who had chosen a spot on the sidewalk of this Bridge to setup their shop selling sunglasses. One of them was tall and lean and the other was short and stout. Both of them always wore pink-red clothes that were of their traditional style: A calf length skirt with many many pleated folds and a thigh-length top with sleeves that were longer than the elbow. Hair braided into two tails that were extended with artificial hair and ribbons. A scarf that at most partially covered the head and hung down the shoulders.
Mumbiram had often crossed this Bridge as a child when he went to visit his artist grandfather's farmhouse under Bombay Pune Road. Later on he would cross it everyday riding his bicycle to the engineering college on the bank of the Mula river. It was exhilarating for him to pass this spot. The vast expanse of the sky in its panoramic 360° majesty used to overwhelm him. This is where he he learnt to love the clouds and his grandfather's love for the clouds.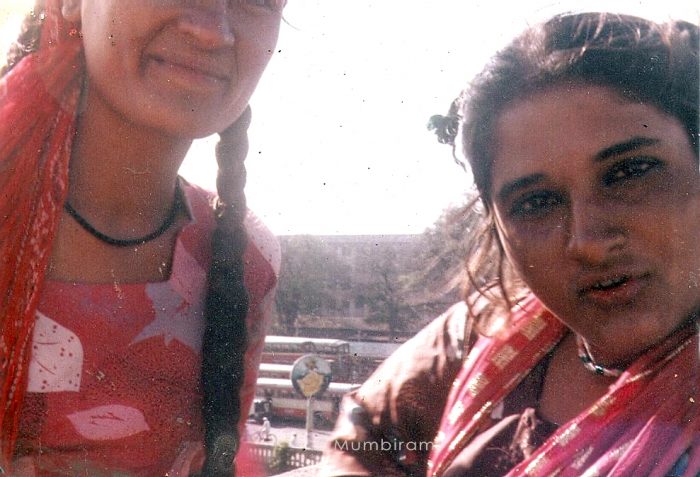 It had to happen one day and it did happen. Mumbiram has often recalled in great amusement his first encounter with 'Sheher' one early afternoon on a cloudy day. Mumbiram took a leisurely purposeful walk on that sidewalk and without pretending to be a buyer for their sunglasses mused aloud to the tall one, "How wonderful it would be to make a painting of you standing here under the Blue Sky." She was not sure she heard him right. So Mumbiram repeated what he had said. She called out to her colleague and said "Did you hear what this man is saying". The colleague joined them. Mumbiram repeated what he had said. "Who are you ?" "I am Dilbad. Can I call you Sheherzade ?" "Don't you know our men would beat you for saying that ?" "After having talked with you even once I'm so happy I don't mind even if I had to jump into the river." That brought about spontaneous shrieks of happy laughter of surprise from the two sakhis. Mumbiram responded with a big smile in return. They could not stop laughing. Mumbiram walked on. He was neither beaten by anybody nor had he jumped into the river ! He had certainly left the two wishing for more fun.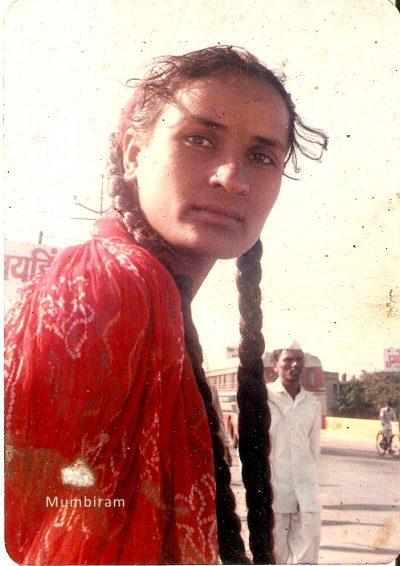 On another opportune sunny afternoon Mumbiram appeared with a camera. Without any prologue he proposed: "Sheherzade, let's make a photo ?" "Call me just Sheher !" Mumbiram had made 2-3 photos when Sheher's calleague came running. She literally pulled Sheher away from Mumbiram. They could not stop laughing.
Mumbiram never approached them again. He never saw them at Shivajinagar either. However 'Sheher' did appear in one of Mumbiram's riverscapes that shows the scene at that very spot on that bridge where Mumbiram shared a deja vu like experience. In the painting the Mutha river is in an orange flood. Sheher is standing in one of the semicircular balconies of the bridge. She appears in a pensive reverie.
Mumbiram's palette and paintbrush are resting on the balustrade. Two sakhis of Sheher are looking excitedly at the artist and his model.
Mumbi was fascinated by Sheher's classical Baluchi style.The skirt with abundant folds topped by a dress that had sleeves that reached below the elbows. The hair plaited in two braids that were extended with tassels at the end. A scarf that partly covered the head and descended on both shoulders. High heel sandals. The works. Yet so simple and graceful.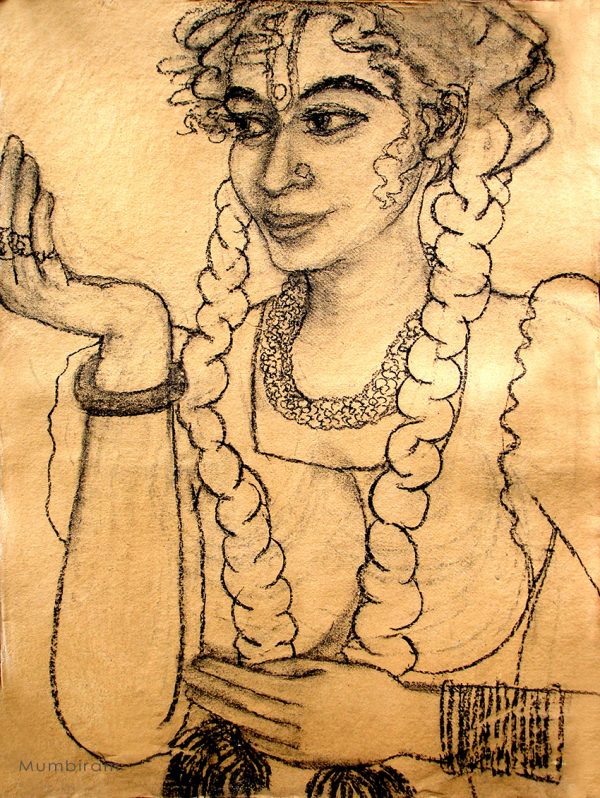 We have this energetic charcoal rendering that is inspired by Sheher standing under the vast expanse of the sky in a semicircular balcony of that massive stone bridge in front of Bajirao's own Shaniwar Wada.