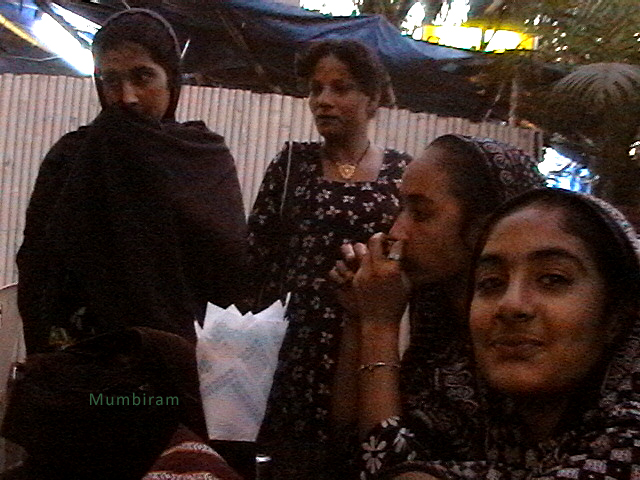 Mumbiram's friendship with the Baluchis has been an ongoing story. You can read about how Mumbiram got to know Dilair some years ago in "Dilairs secret Adventure".
Now here Mumbiram is with a young 'shiksa', a 'gaja', a 'pardesiya'. Yeah, Mumbiram did not settle for a woman off his own 'caste'. He was not messing around with women of other castes just for entertainment. He was serious about a cross-cultural alliance. Mumbiram and Vrinda both liked to be around Shivajinagar railway station. The Baluchis had been watching them as was most everybody else in Pune. And now Mumbiram and Vrinda have a little baby boy ! Great excuse to approach them !
One such opportunity presented itself one fine day in the month of Ramadan. That evening Mumbiram and Vrinda dropped into one of the Udupi restaurants near the Shivajinagar railway station. A group of nearly a dozen Baluchi young women were already in there all dressed in black dresses with delicate white flower-and-paisley patterns on them. Other Muslims would wear plain black in Ramadan. Baluchis are different. Even their mourning is not just sad.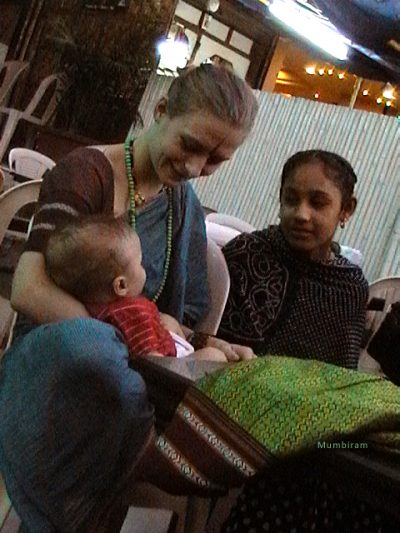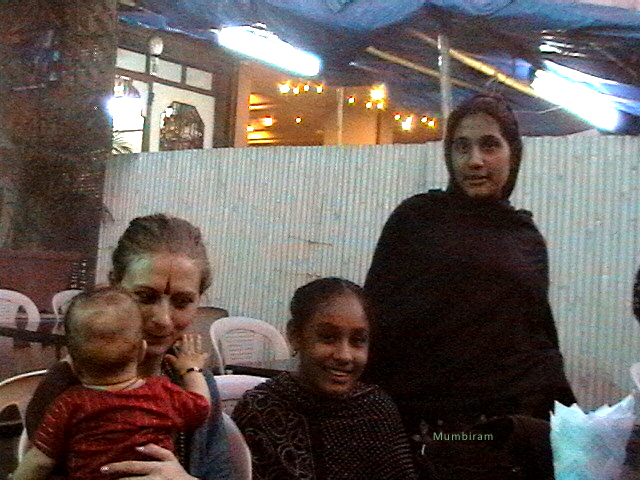 As soon as Mumbiram and Vrinda had seated themselves the young unmarried Baluchi maidens approached Vrinda and her baby boy. 
 Mumbiram kept a respectable distance from the ladies so they can associate with Vrinda and her baby boy without any inhibitions. They all appreciated that and didn't mind the camera in Mumbiram's hands at all. 
They themselves felt that they in their special Ramadan dresses really deserved to be immortalized in an artistic vision. Every one of them is very uniquely and individualistically attired. They are looking great and they know it. Everybody was agreeing that it was a wonderful photo-opportunity for all !
Dilair stands up and stands out in her tasteful choice of a Ramdan outfit. It is simple and lets the natural curves of a healthy human body prevail. Her hair is pulled back in a bunch and she is wearing a lone necklace of black beads with a prominent gold medallion in the center. That is quite a fusion of Baluch and Peshwa styles !
The sweet soulful exchange, between these favorite muses of our artist and his beloved, that followed and was captured by the artist himself, is for all to see in the photographs here.
Dilair is not looking at Mumbiram and his camera. Yet she is giving him every opportunity to make photos where she stands out !