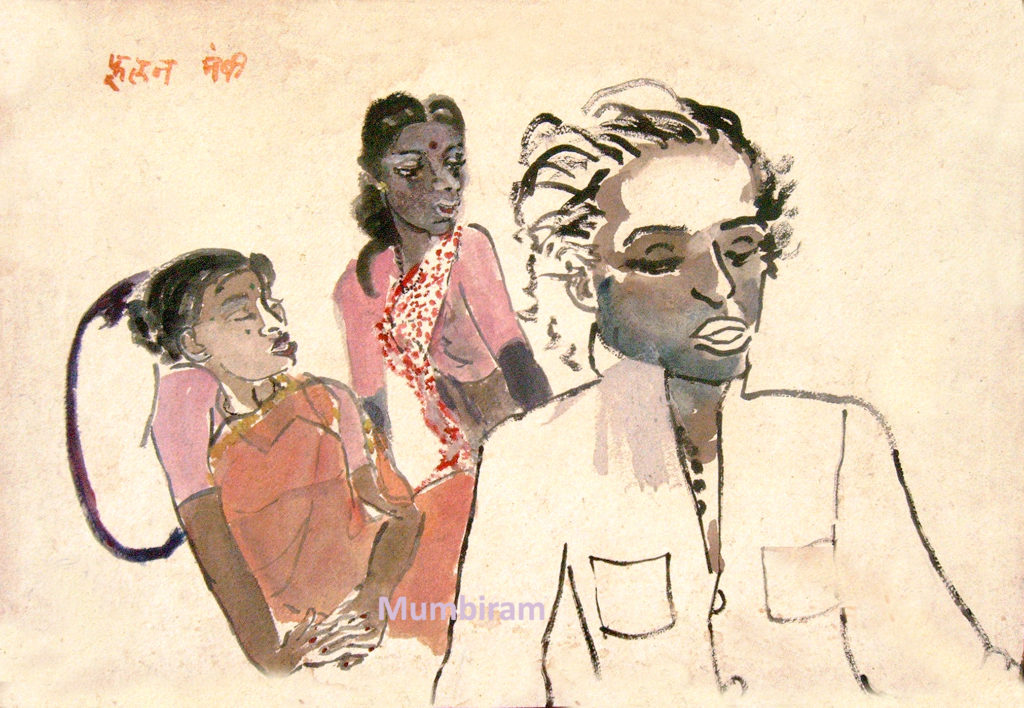 Who was Phoolan ?
Phoolan, the "Bandit Queen", had shot to all-India-fame in February 1981 when that low-caste woman of barely 18 years in age had extracted revenge by returning to the village of Behamai in Bundelkhand where she was repeatedly raped by upper-caste Rajput men who took turns to rape her for several days. Phoolan had escaped, formed a new gang of men of her Mallah caste and returned to Behamai a few months later and lined up all twenty-two Rajput men who were present and gunned them down. For nearly two years after that, Phoolan had evaded capture.
When was "Phoolan Mumbi" made?
At that time, Mumbiram had recently joined the Gokhle Institute of Politics and Economics. His parents were now living in the upper-class Prabhat Road area of Pune. Their Mandai residence, where Mumbiram grew up, was now abandoned. It was used for storing old furniture, old books, old case papers from his father's forty years of legal practice, old clothes and many other things that were considered unwanted. Mumbiram took shelter in that run down apartment on top of the "Lala Lajpatrai" restaurant.
Before long, Mumbiram had befriended some gangs of rag-picking girls that would be foraging the streets of Pune in the early hours of the morning. Most of them had migrated with their families from rural areas of Maharashtra to escape droughts and famines. They would be gathering paper, plastic, cloth, and metal scrap in sacks they carried over the shoulder.
We can only speculate what about these barefoot, impoverished girls attracted Mumbiram. Mumbiram himself has declared in his "Manifesto of Personalism":
"My rambunctious, bumbling, rag-picking friends remind me of the adolescent Krishna, along with his friends, wandering behind the cows through the forests of Vrindavan." 
Mumbiram found a lot in common between these girls and the Phoolandevi of his imagination. Indeed, Phoolan had caught Mumbiram´s imagination. Phoolan was born in 1963, which made her not more than five years older than the youngest of these urban rebels. Once they set out on their daily sojourn through the streets, they helped themselves to whatever they fancied without being noticed or caught. Sometimes they would set out in the dark hours of early morning to help themselves to scrap iron at construction sites. Many times, they were caught or chased through the streets like Vasantsena was chased by the wily brother-in-law of the king. It was at such times that they ran up the steps and knocked frantically on the door of what had now become Artist Mumbiram´s downtown Mandai studio. Here they were safe and welcome. They could have a bite to eat or take a nap on the cool shahabad stone tiles of the floor. Above all, they were safe. 
Rasa Appreciation of "Phoolan Mumbi"
In this quick rendering, titled "Phoolan Mumbi", we see Mumbiram has given shelter to the fugitive Phoolan. She is taking a quick nap by reclining on a pillow propped against the wall. Her companion is standing guard over her. This must be their first time in the artist´s hideaway. They don't know him well yet.
For such quick sketches, Mumbiram usually used a single brush. The initial sketch was made with India ink, which is a permanent indelible ink. Then he put in a few dashes of color here and there and it was already complete. The facial details and nuances of expression that he could render with minimal effort are simply awesome. What is even more amazing is that the drama being illustrated was actually happening then and there as well. The person depicted as Phoolan is one of Mumbiram´s favourite Muses, Ratnamala. Phoolan´s companion is Ratnamala´s real-life buddy Sangeeta.
Mumbiram had never seen Phoolan. He was involved with gangs of rowdy yet vulnerable teenage slum-dweller girls that had so much in common with Phoolan. Phoolan belonged to the Mallah caste of boatmen fisherfolk. These girls belonged to the Matang community of people who took away animal carcasses and retrieved bones and skins for a living. They belonged to the same generation and same age. Mumbiram was often finding himself giving shelter to the girls when they were being chased by upper caste men who wanted to catch them as thieves. Young Phoolan was said to have a very foul mouth. These girls were outrageously creative in the shockingly filthy language they could spout on command. In truth it was the only defense they had. The families of these girls had migrated from a village called Mungi near the ancient town Paithan. The great Bajirao Peshwa had forced the Nizam to sign a humiliating truce near Mungi. Even before that, Nimbarkacharya, the founder of the Nimbark Sampraday of Vaishnavism had taken birth at Mungi. As for Phoolan's Mallah community, Pandava's great grandmother Satyavati was born as the fish-smelling Matsyagandha and was a boat-woman who ferried people across the Ganga for a price. In Mumbiram's estimate these women that were despised by society were precious Indians that had an aura that was nothing less than divine.
How did it happen that Mumbiram was inspired to make a picture that shows the fugitive dacoit Phoolan seeking shelter at the atelier of this elderly looking gentleman with swept back white hair and no moustache ? From the title of the painting we are to understand that the elderly gentleman is an older avatar of Artist Mumbiram. He has parental affection (vatsalya rasa) towards the young women he has given asylum to. The girls who are seen as the sleeping Phoolan and her companion guarding over her are indeed the feisty Ratnamala and her gutsy buddy Sangeeta who were rag-picking teenage girls that had often taken refuge at Artist Mumbiram's downtown Mandai atelier.
What is mysterious and uncanny is that Ratnamala resembles the real Phoolan in her facial features and her expression.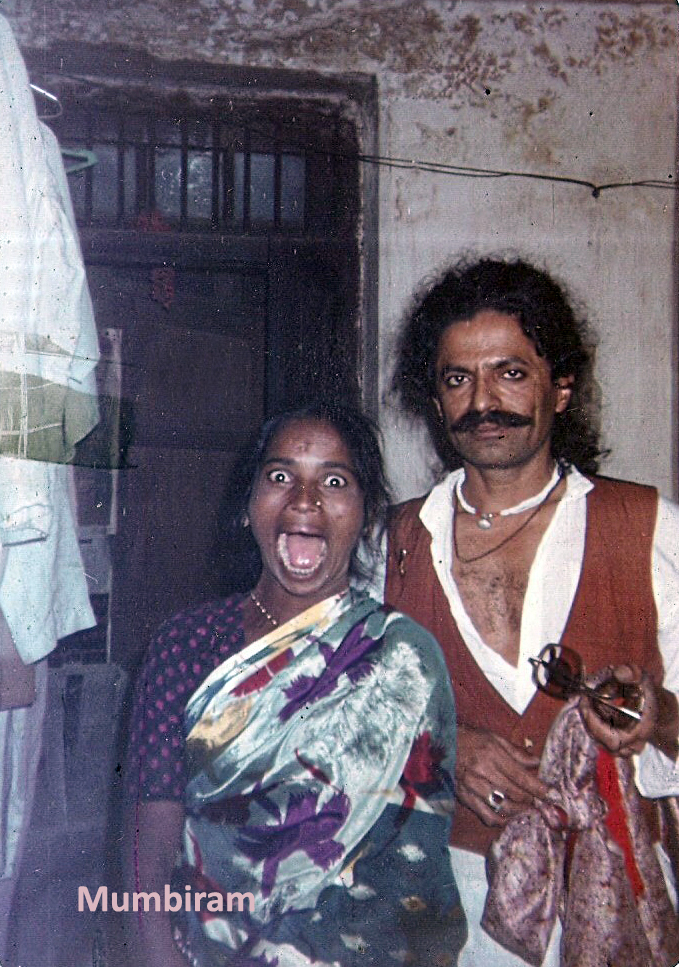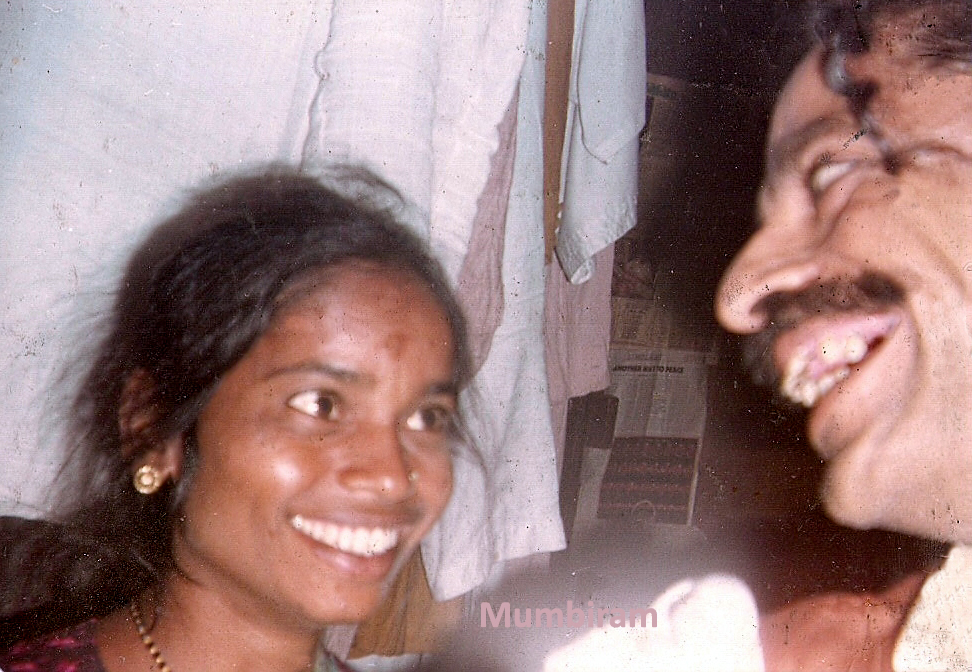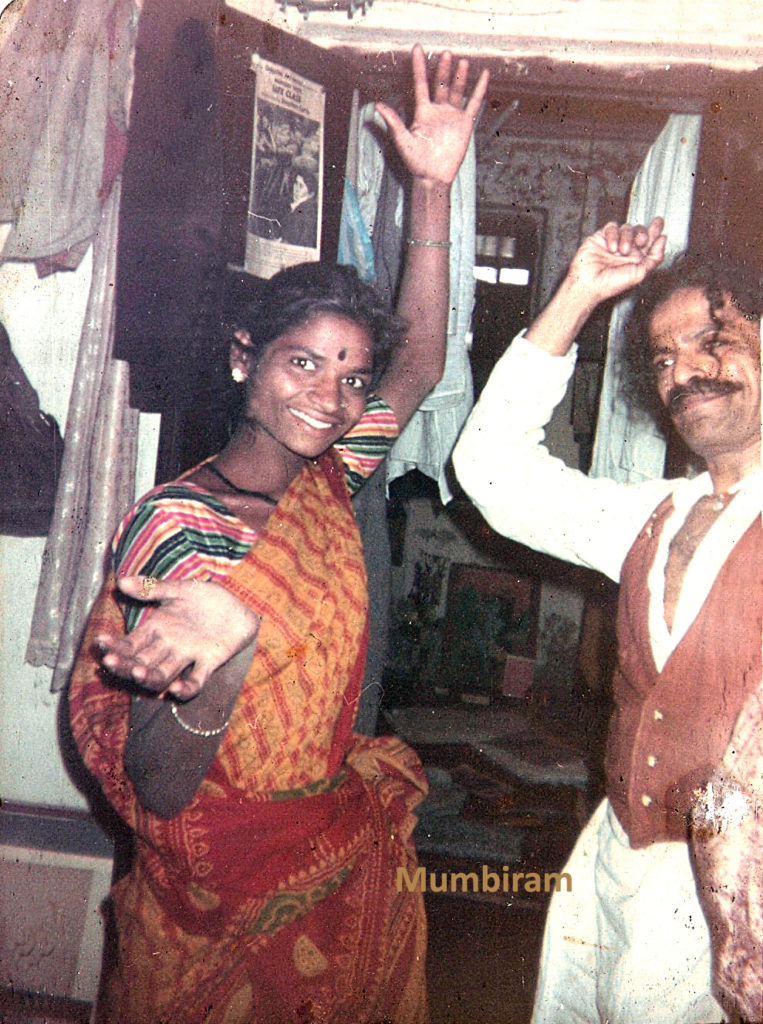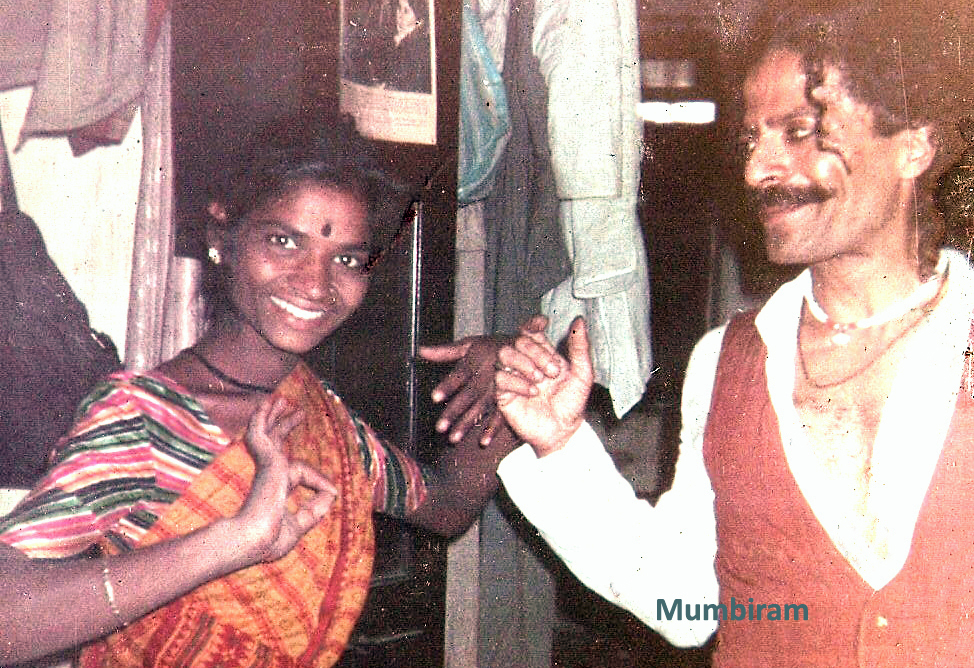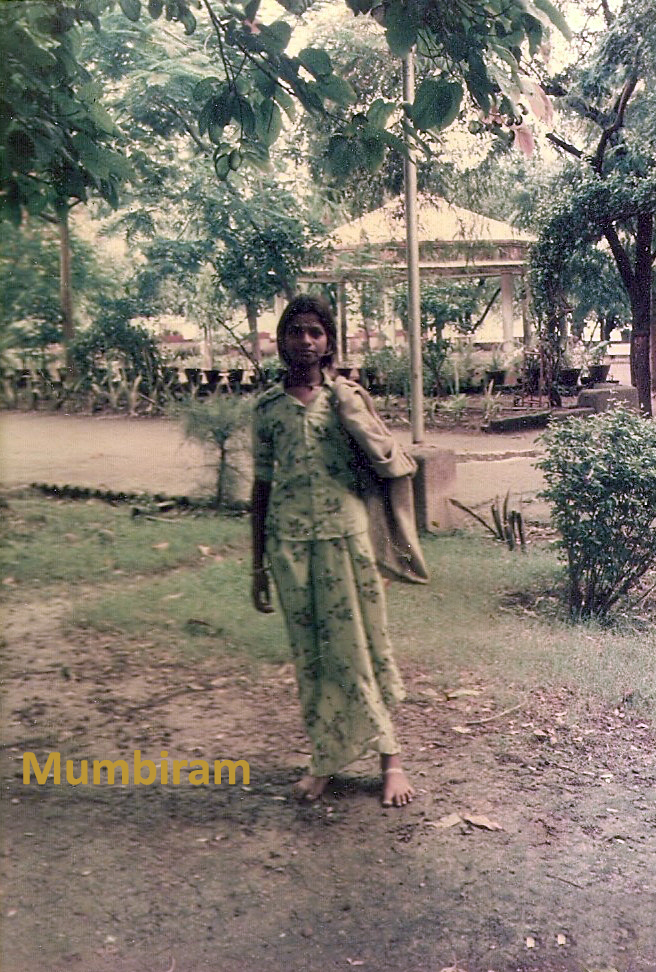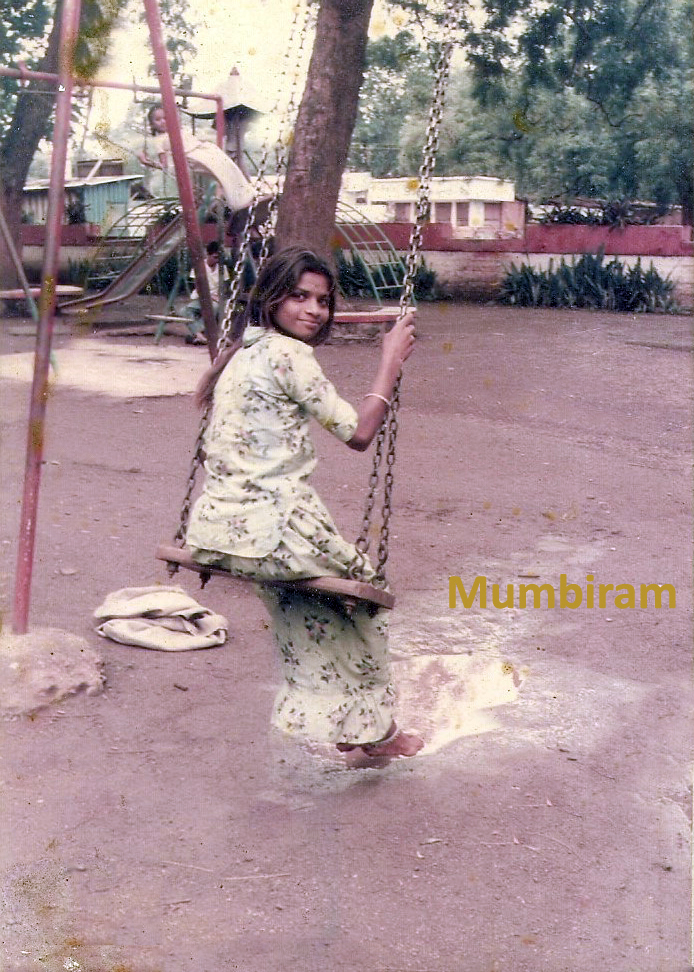 We see these muses of Mumbiram mostly in the context of Krishna Leelas. We never see them as rag-pickers. Mumbiram saw them as personification of innocence and beauty. They were his muses that deserved the utmost courtesy and grace.