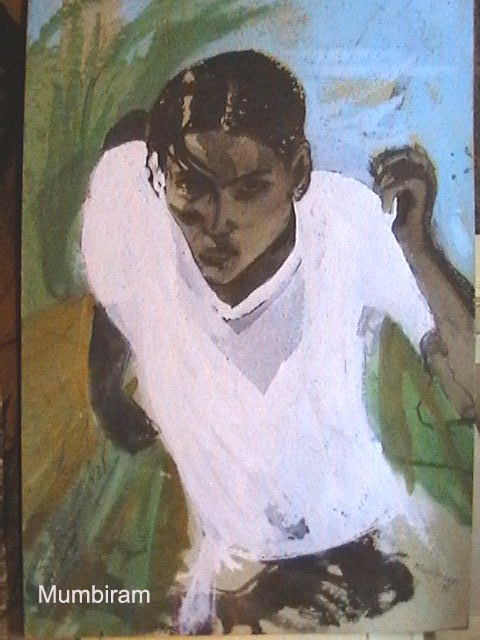 In the early 1980s P.T.Usha and Phoolan Devi were two Indian women that had caught the imagination of Mumbiram. He considered them iconic of handsome dark ethnic personalities that were examples of an entirely new and different ideal of human beauty. Mumbiram had followed all news that appeared in the media about either of them. Mumbiram had eagerly watched Usha's sprint in the 400m women's final at the Los Angeles Olympics in 1984. He was full of admiration for Usha's cool, collected and even stride right to the finish. She missed the bronze medal by a mere one hundreds of a second. But she did not show the slightest sign of desperation or frantic effort. It appeared as if it was important for her that her appearance had to be one of aesthetic excellence rather than a brute feat o physical prowess. Mumbiram had followed all news about Usha in the following years. He had noticed how she touched the ground and then her heart and her forehead soon after she took her position at the blocks at the beginning of any competition. Coming from a tribal background Usha had made an indelible mark on the field of Indian athletics. Usha had caught popular imagination as an Indian athlete making a mark at international level. For Mumbiram she was an example of human grace that comes out of a healthy and aesthetic communion with God.
Some time in the late 80s Usha was invited as an honourable chief guest to inaugurate the Pune marathon. As soon as Mumbiram read the news he found out her itinerary during her stay in Pune. The morning of the marathon she would be felicitated by the Kerala community of Pune in a five star hotel near Pune railway station. Mumbiram decided to meet Usha at that venue to express his admiration and encouragement from an artist who was impressed with her grace and faith.
It was all very spontaneous. Mumbiram decided to share with Usha the portrait of her that he had made even before he had met her in person. More than that, Mumbiram wanted to give Usha a small print of Mumbiram's iconic painting of 'Krishna playing the Flute'.
Mumbiram decided to take a photographer along so he could have a photo of their meeting for keeps. He could even share it with the media to show that Usha was admired not only by sport enthusiasts but even by artists who perceived her as an example of human grace and power of faith. Mumbiram' knew a photographer that lived not far from his legendary studio in Mandai. This man's brother was employed in the physics department of S.P. College in Pune where Mumbiram knew young men from whom Mumbiram could collect bhiksha when needed. Mumbiram dropped in on this photographer in the very early hours of the morning and persuaded him to join with his camera to make photos of Mumbiram's meeting with Usha.
Usha was quite happy to meet Mumbiram right after her meeting with the Kerala community. Mumbiram showed her the painting which showed Usha from the front as she dashed out of the blocks at the beginning of a sprint. A little crowd gathered around to have a peep. "I have shown you darker than you are." Mumbiram exclaimed unapologetically at which Usha blushed. She asked if she could have the painting. "I wish you would sign it. Then I will keep it as a cherished memory. I do want to give you something else instead." Usha signed the painting. Then Mumbiram flashed out the small beautiful print of his iconic 'Krishna playing the Flute'. "I want to give you this picture of Krishna I have made. I have signed it too." Usha was very happy to get that nice gift. In fact Mumbiram would know how greatly happy she was with that gift before the end of that week.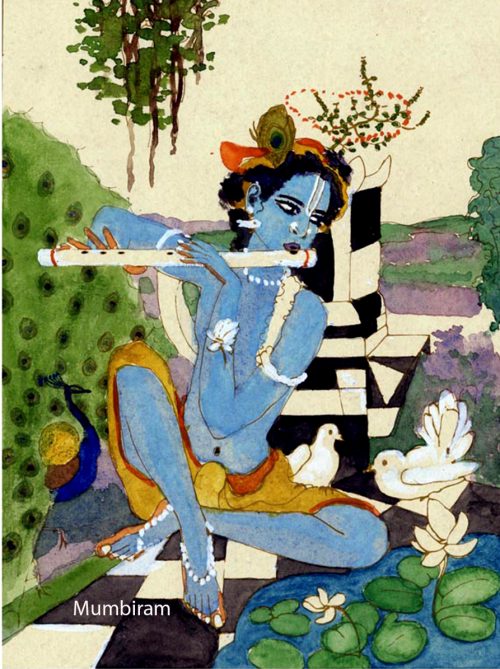 The photographer had disappeared. Next day some local Marathi newspapers in their news-coverage of Usha's visit showed Usha's photos that this photographer made. Mumbiram's image was edited out. There was no mention of Mumbiram's visit with Usha. Only a few days later Mumbiram was able to get a copy of the photo of Mumbiram presenting the painting to Usha. Mumbiram felt let down, even tricked by this photographer he trusted. But that was not the end of the story.
On that Thursday many all-India newspapers carried the news that Usha had visited the Krishna Temple at Guruvayyur and offered to Guruvayyurappa all her gold medals that she had won.