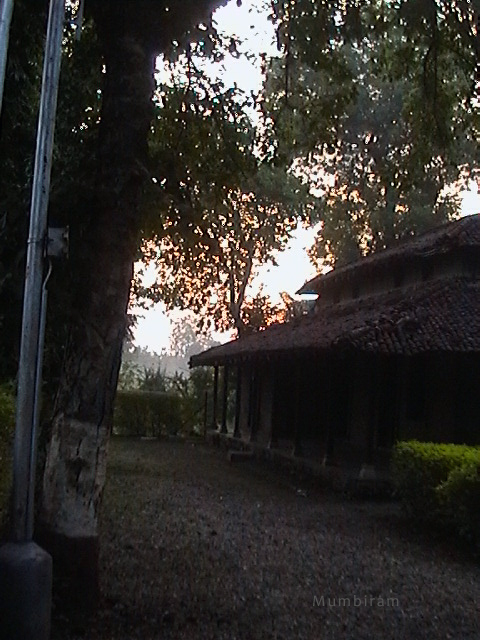 Mumbiram had visited Sevagram with Markus Müller, his admirer from Basel, in 2001. It was a short yet eventful visit. Mumbiram had promised himself to come again to Sevagram for a longer visit. Six years later that opportunity materialized in an autumn visit to that romantic karmabhoomi of Mahatma Gandhi. At that time Mumbiram and Vrinda were living in Raiwadi, an oceanside village south of Alibaug. Their son Hansraj was a little over 3 years old. Their journey began with a boat ride to Mumbai. They had taken an afternoon train from Lokmanya Tilak terminal in Mumbai that took them to Wardha. They had arrived in Sevagram around 5 am next morning. Again they were given a room in Rustam Bhavan right next to where Mumbiram had stayed with Markus 6 years before.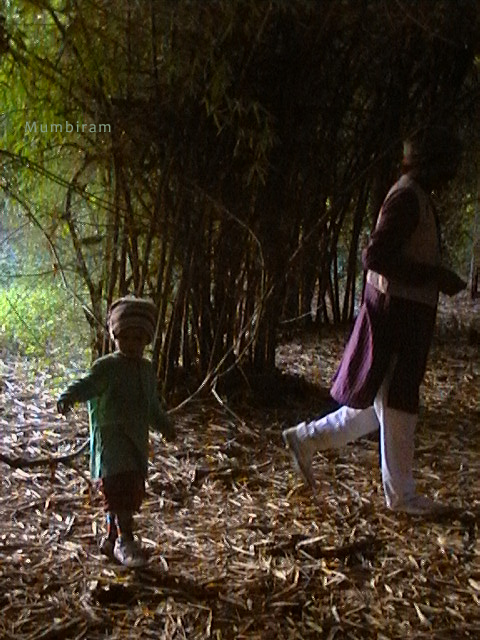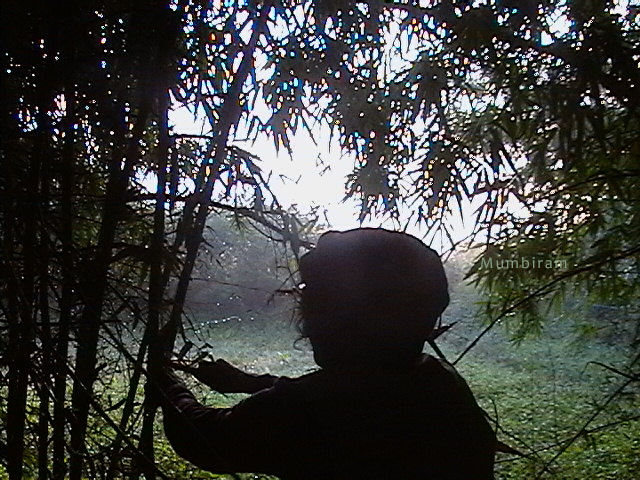 They were to come to the Ashram's kitchen for breakfast around 7-30. Till then they ventured out in the open fields around the Ashram and found a really beautiful bamboo kunja not more than 200 meters from Rustam Bhavan. Mumbiram has an umbilical bond with bamboos. He was born around the corner of Bamboo Lane in Pune. A bamboo flute is always enjoying intimacy with Krishna's lips.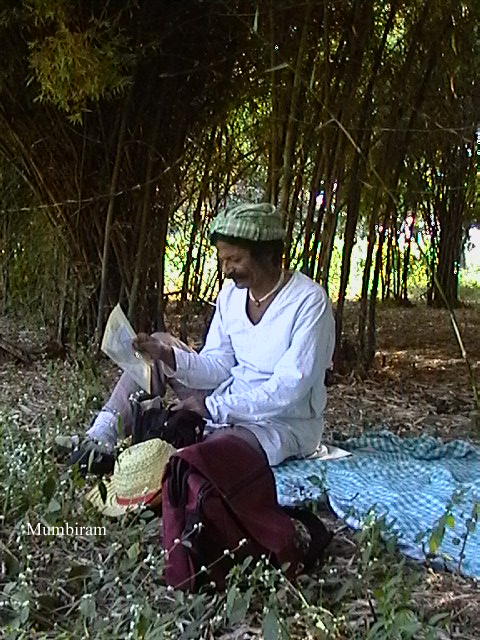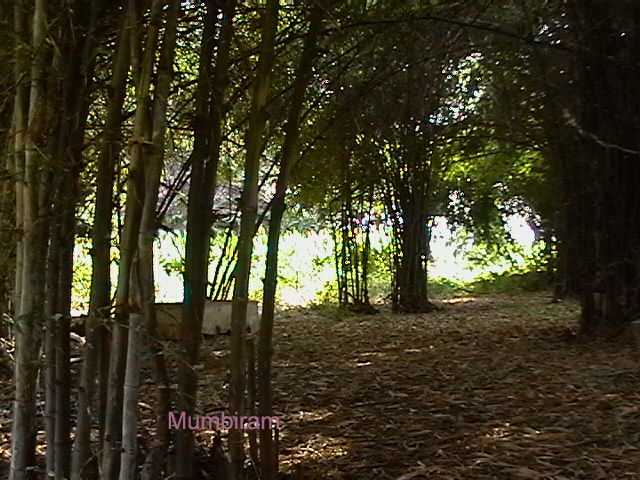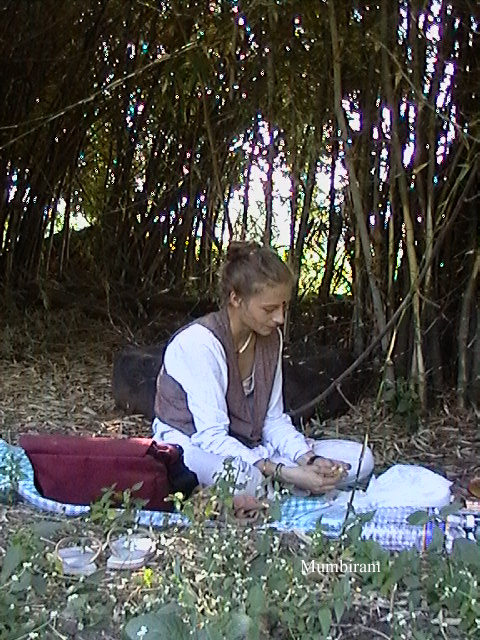 This would be their little refuge away from refuge over the next month. There were tens of acres of bamboo planted in the land further down that belonged to the ashram. In the early predawn hours one heard loud calls of peacocks coming from those woods.
Back in the Ashram premises they were waiting in the veranda of the Adi Nivas hut for the Ashram kitchen to open when they were visited by two long time ashram inhabitants.
Jinudevi appeared silently and joined the little group as if they had known each other well in a previous life. A very alive and friendly but very silent dog arrived with her. Jinu introduced her as Rajkumari. Hansraj and Vrindaji were very happy to welcome her.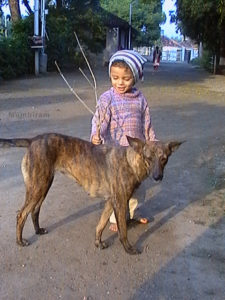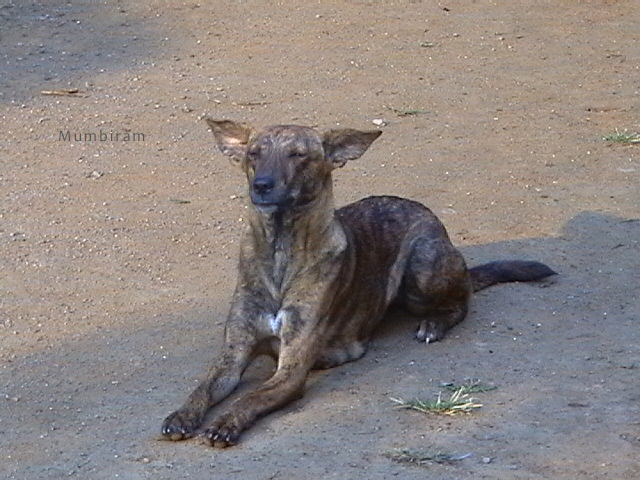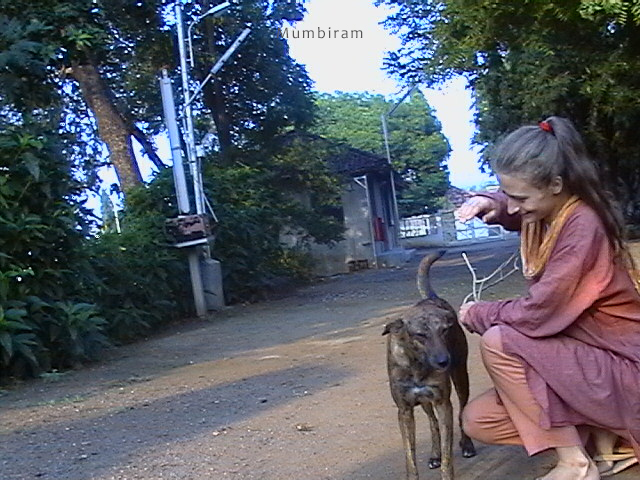 Jinu is a most graceous manifestation of the spirit of Gandhiji's Sevagram – the Village of Service. Jinu is from Assam. Jinu has left behind all family attachments to lead a life of service, meditation and grace. She is very lovingly attached to the art of spinning. She is helping Malati in the Goshala. She is helping in the kitchen to grind the grains. She is always in cheerful spirits. Ever since they met in this amazing first encounter Jinu has remained a great friend of this artist's family. Jinu's presence inspires service, simplicity and grace.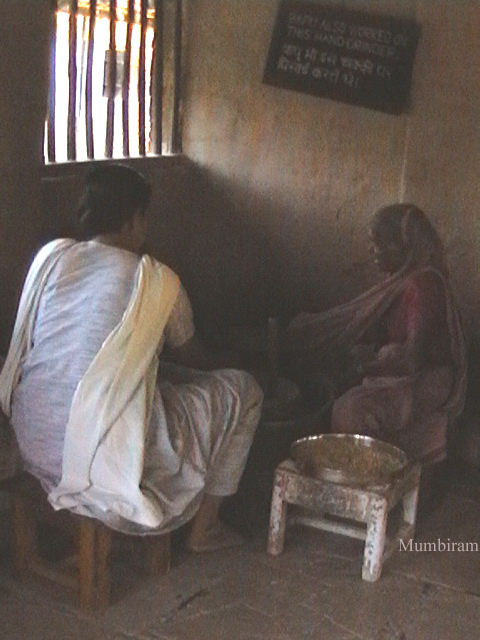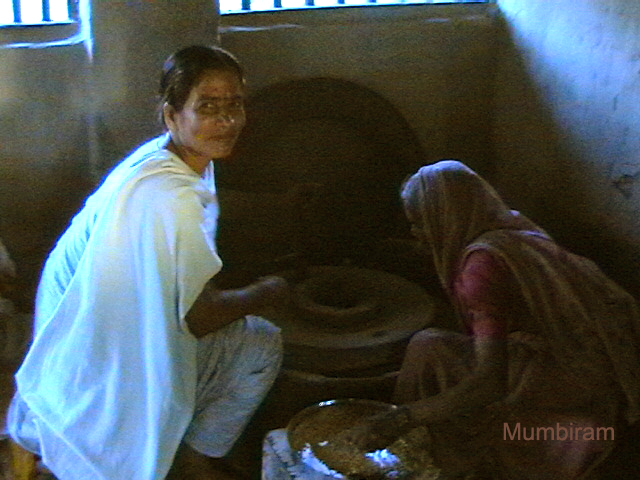 They will be seeing much more of this very special friend in the future. Jinu has left a lasting impression on all who came in her company.