When Artist Mumbiram was requested to make a painting of venerable Shri Haribaba of Vrindavan, Mumbiram was delighted to discover an amazing cosmic coincidence.
In 1987 when Artist Mumbiram was visiting Vrindavan he was invited by the Raasleelaa Mandali of Swami Hargovindji to stay at Kamal Kunja bungalow near Vidyapeeth Chouraha. Vrindavan has more than 60 Raasleelaa Mandali drama companies. The famous saint Shri Haribaba of Davanal Kunda who inspired his disciple-admirers to build a 34 miles long bandh along the Ganga around 1922 was also the preceptor of this most prominent and prosperous Raasleelaa Mandali of Vrindavan. At that time it was under the guidance of Swami Hargovindji and later it was led by his son Ramprasadji.
When Artist Mumbiram was visiting respected Mahamandaleshwar Ramdasshastriji of Char Sampradaya Ashram, the saint took a liking to Mumbiram. He presented to Mumbiram a copy of his own Hindi commentary of Bilvamangal's 'Krishna Karnamritam'. He sent Mumbiram to Swami Hargovindji's Govinda-Vihar where a Bhagavat Saptah was about to begin. At Govind-Vihar Ramprasadji invited Artist Mumbiram to stay at Kamal Kunja as artist-in-residence and make paintings. The first painting Mumbiram was requested to make was of Shri Haribaba, the patron saint of Hargovindji's Raasleelaa Mandali. Shri Haribaba was an activist saint. By building the dam of 34 miles he had saved a large area from yearly floods. His admirers, local villagers, along with members of wealthy business families of Bombay together performed this miracle while chanting the holy names of Krishna.
When Mumbiram was asked to make a picture of Shri Haribaba, he wanted to know all about this venerable saint before he would undertake to make such a portrait. Ramprasadji gave Mumbiram a biography of Shri Haribaba. Reading that book was a thrilling experience for Mumbiram because he discovered an amazing episode in Haribaba´s spiritual journey.
Shri Haribaba was born in an educated Punjabi family. While enrolled in college he was totally dissatisfied with what he was learning, dropped out and decided to associate with saintly persons along the Ganga. He travelled up and down the Ganga, thousands of miles, getting the association of different holy men of India. He used to do Madhukari in the villages along the river. In his youth, Haribaba was known as "Svatah Prakash"(Self-illuminated). Young Shri Haribaba (at that time he had another name) had found a guru named Achyutananda. They were travelling together all over India. Guru Achyutananda had an impersonal concept of God. While travelling they came to Wardha in central India. There Shri Haribaba began to join the Kirtan discourses of a Mahapurush named Paranjpeji in his Ashram at Hanumangad. Paranjpeji was giving discourses in Marathi that were embellished with choice Sanskrit verses. Listening to them young Shri Haribaba began to exhibit ecstatic bodily symptoms that ordinary people would have mistaken for epileptic fits. Paranjpeji recognised Shri Haribaba's state as Ashta-Sattvic-Bhavas that are symptoms of the highest state of love of God. Paranjpeji gave Shri Haribaba an English book titled "Lord Gauranga" by Maharishi Shishir Kumar Ghosh. This was the most important turning point that turned Svatah Prakash into a Krishna devotee of the Caitanya Sampradaya.
Mumbiram was thrilled to find out that the Mahapurush of Hanumangadh Wardha was indeed his father's uncle, Shri Shridhar Vishnu Paranjpeji, who was known as Shri Ramadasanudas. Mumbiram found it very exciting. He was asked to make a painting of Shri Haribaba and it turns out that Shri Haribaba became a Krishna devotee partly because of Mumbiram's grand-uncle Ramadasanudas. Mumbiram told this to Ramprasadji, "Ramprasadji, you were talking about cosmic, divine coincidences that I have appeared here at the beginning of a Bhagvat Saptah. Well, what do you know. Your Shri Haribaba and my granduncle have a very close relationship." Ramprasadji replied, "Please give us some credit, Mumbiramji. We must have seen something in you!"
Mumbiram happily worked on the portrait of Shri Haribaba and completed it within a month. The painting of Shri Haribaba was appreciated by all those who had seen Shri Haribaba in person. Hare Krishna Brahmachariji, a favourite disciple of Shri Haribaba, had visited Mumbiram and was very pleased with Mumbiram's depiction of Shri Haribaba. Shri Avadh Bihari Lal Kapoor was a godbrother of Bhaktivedanta Swami Maharaj. Mumbiram used to visit him at his residence near Radharaman Temple. Shri Kapoor had presented Mumbiram a copy of his poetic work "Virahini Radha" (Radha in feelings of separation) and had also visited Mumbiram at Kamal Kunja.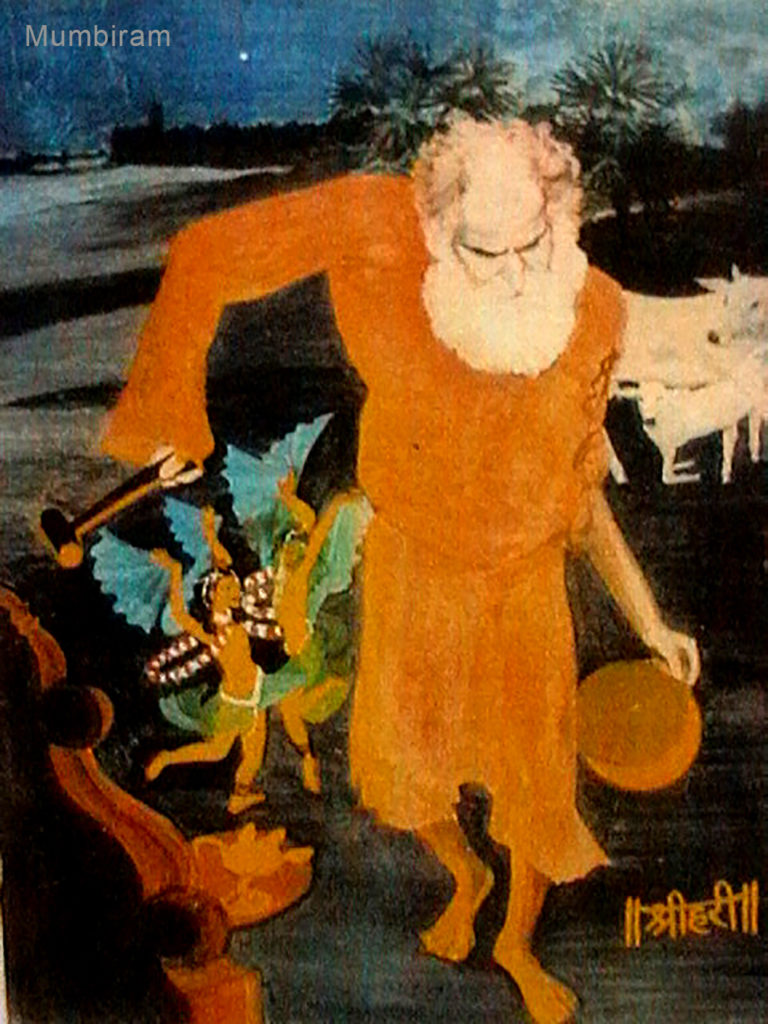 Oil painting portrait by Mumbiram. Shri Haribaba is venerated in Vrindavan as an activist saint, who inspired his admirers to build a 34 miles embankment along the Ganga to stop annual flooding of vast tracts of land. A young Haribaba evolved from the path of knowledge to the path of Krishna devotion while listening to inspiring discourses of Shri Ramadasanudas (Paranjpeji, Mumbiram's granduncle) in Wardha.
In this painting made by Mumbiram, Shri Haribaba is seen walking at the bank of the river in the early morning hours. Shri Haribaba is dressed in a bright orange robe. He is holding his iconic gong, which he famously took on his daily walks along the river chanting the holy names. Pay attention to the two small figures dancing joyfully. They symbolize Shri Haribaba's ecstatic love for Lord Krishna. Only the artist knows if they are Chaitanya and Nityananda who are dancing ecstatically here. The drama of all these happenings is captured with the ease that is typical for Mumbiram's artworks. The glowing personality of Shri Haribaba stands out against the subdued light of the early morning hours. The only other witnesses to this magical vision are a cow and its calf who has stopped drinking from mother to have a good look at the glorious saint passing by.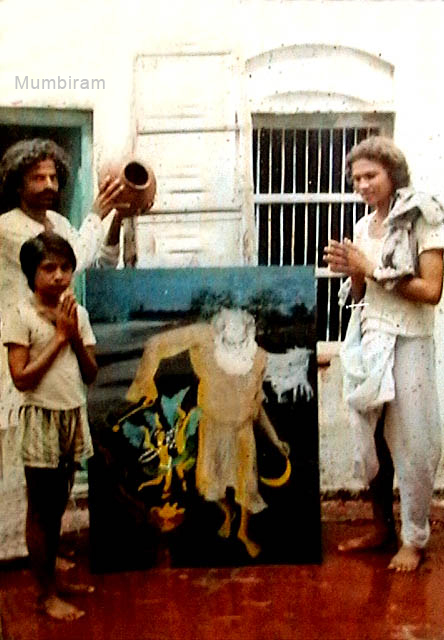 Mumbiramji and some Raasleela boys at Kamal Kunja doing a Jalabhishek of Mumbiram's painting of Shri Haribaba. Mumbiramji is on the left with the Abhishek pot.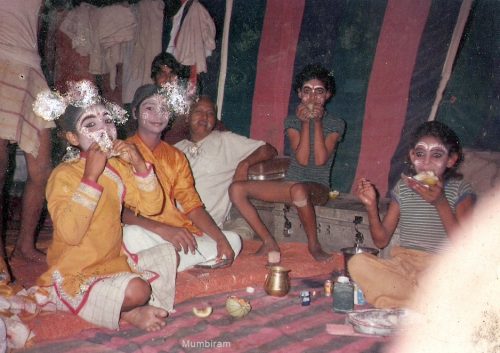 A photo taken by Artist Mumbiram who enjoyed staying at Kamal Kunja.
The account of the transformation that young "Svatah Prakash" went through at Hanumangadh Wardha is described briefly but accurately in the biography of Shri Harinbaba that Ramprasadji gave to Mumbiram. Other accounts based on recent online blogs give an incorrect narrative of what transpired. First of all, Paranjpeji was the founder of the Suryadev Math Ashram at Hanumangadh. As a young man he was teaching Mathematics at Hislop College in Nagpur. For some time he was personal secretary to the celebrated patriot Justice Mahadev Govind Ranade. Then he decided to dedicate himself wholeheartedly to the devotional path introduced by Samarth Ramdas Swami. Now he was Ramdasanudas. He started the Suryadev Math Ashram in Hanumangadh Wardha. He was a charismatic Kirtankar who could move audiences to devotional ecstasies. At age 26 he wrote a voluminous commentary to an original devotional work in Marathi called Kekavali (Call of the Peacock). This treatise is verily a reference book on Bhagavat Dharma. He wrote treatises about the art and science of making Kirtan. These were titled "Bhakti Sudhaa Dhaaraa" (The Stream of Nectar of Devotion) and "Kirtan Sudhaa Dhaaraa" (The Stream of Nectar of Kirtan). These have become standard references in their genre. In his later life he was known as Ramdasananda. He is celebrated as a Nationalist Kirtankar outspoken about India's independence, abolition of caste system and about allowing widows to marry again.